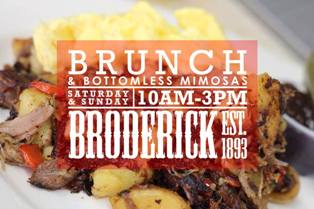 When

Sun, March 16 2014

Where

Broderick Roadhouse
319 6th St

Time

10:00 am - 3:00 pm
Description
Check out the 2013 Burger Battle People's Choice winner Broderick Roadhouse in West Sacramento.
Brunch & Bottomless Mimosas are offered Saturdays and Sundays from 10am – 3pm.
Find other events tagged under: brunch, burger battle, west sacramento roadhouse
Event Categories
THE LATEST
Broderick Restaurant & Bar

FARM TO FORK WEEKS are here, and we had to join in, BRODERICK STYLE! Here's what we're serving up through 9/28.. Stop by to get a taste! These specials will be available for lunch & dinner!!

FRIED CHICKEN BASKET
Buttermilk brined half chicken, 5th & C Street Farms heirloom tomato coleslaw & fresh buttermilk biscuits, served with chipotle honey butter.

STURGEON BLT
Grilled Passmore Ranch sturgeon, applewood smoked bacon, 5th & C heirloom tomatoes, avocado puree & arugula, tossed in a jalapeno lime vinaigrette.