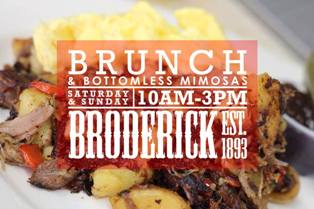 When

Sun, March 16 2014

Where

Broderick Roadhouse
319 6th St

Time

10:00 am - 3:00 pm
Description
Check out the 2013 Burger Battle People's Choice winner Broderick Roadhouse in West Sacramento.
Brunch & Bottomless Mimosas are offered Saturdays and Sundays from 10am – 3pm.
Find other events tagged under: brunch, burger battle, west sacramento roadhouse
Event Categories
THE LATEST
First look: Empress Tavern adds sizzle to K Street - What's Cooking - Sacramento, CA

A first look at Empress Tavern, one of Sacramento's most anticipated new restaurants in years.