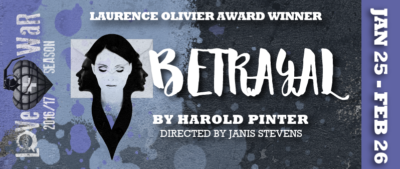 This event has expired.
When

Sun, February 26 2017

Where

Capital Stage
2215 J Street
Description
Emma and Jerry, former lovers, meet at a cafe in the present. Emma's marriage to Jerry's best friend Robert is falling apart, and she seeks out Jerry's consolation. From there, the play travels backwards through time – from the end of Emma and Jerry's affair to its beginning – and unearths the little lies and oblique remarks that reveal more than direct statements or overt actions ever could.
Performances for Betrayal will begin with two previews on Wednesday, January 25 & Thursday, January 26 at 7pm, and Friday, January 27 at 8pm. The production will open Saturday, January 28 at 8pm. Performances will continue through Sunday, February 26, 2017. Showtimes will be Wednesdays & Thursdays at 7pm, Fridays at 8pm, Saturdays at 2pm & 8pm, and Sundays at 2pm. Regular ticket prices range from $28-45. Discount tickets are available as follows: Student Rush tickets are half priced with valid student ID within 1 hour of performance; Senior tickets are $5 off regular priced tickets; Military personnel tickets are $10 off regular priced tickets with valid ID; and Group Rate tickets are $5 off each for parties of 12 or more. Tickets are currently available at the Capital Stage Box Office, by phone at 916-995-5464, or online at capstage.org.
January 25 – February 26 , 2017
Preview Nights: January 25 & 26 at 7pm, and 27 at 8pm, $22 tickets
Opening Night: Saturday, January 28 at 8pm, $40-45 tickets
Regular Performance Times:
Wednesdays at 7pm, $28-33 tickets
Thursdays at 7pm, $33-38 tickets
Fridays at 8pm, $33-38 tickets
Saturdays at 2pm, $30-35 tickets
Saturdays at 8pm, $35-40 tickets
Sundays at 2pm, $33-38 tickets
Find other events tagged under:
Event Categories