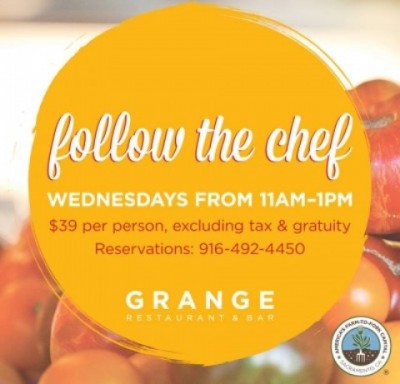 When

Wed, July 9 2014

Where

Grange Restaurant
926 J Street

Time

11:00 am - 1:00 pm

Admission

$39
Description
A guided tour of the farmers' market followed by a three-course meal: This is how Grange does lunch.
To make reservations call (916) 492-4450.
Find other events tagged under: farmers market, food tours, Grange
Event Categories
THE LATEST
Christian Kiefer presents 'The Animals'

Christian Kiefer's taut new novel calls to mind the propulsive and atmospheric fiction of Smith Henderson in 'Fourth of July Creek' or Richard Ford in 'Canada'. A gripping exploration of violence and betrayal set against the repercussions of a toxic childhood friendship, 'The Animals' examines the possibility--or impossibility--of escaping one's natural instinct.

Bill Reed is by all appearances a caretaker: in particular to a menagerie of misfit animals (wolf, bear, and raptors) in a wildlife sanctuary he manages in remote northern Idaho. It's a quiet life, carefully cultivated. But when his childhood friend--and former partner in crime--is released from prison, ready to burn Bill's second chance to the ground in revenge, his tranquil present is suddenly threatened by the years that came before.

In chiseled prose beautifully at odds with the harsh, volatile world he evokes, Kiefer explores his subjects--the animals, men, and their secluded environment--with tender and unflinching empathy. Bill's animals, like these men, are wild but caged, unnerving in their brute strength but still worthy of love. A compulsive read, 'The Animals' traces the stories of these wounded men alongside the precarious fate of the animal refuge until the two crash together in a shimmering, vicious conclusion--finally mirroring one another to perfection.

Join us for an evening with one of our favorite novelists!

This event is FREE and all are welcome!