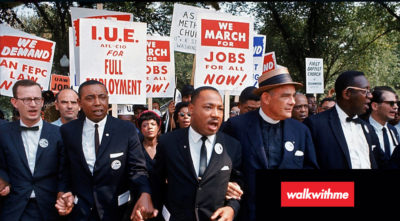 This event has expired.
When

Mon, January 16 2017

Where

Sacramento City College – Student Center
3835 Freeport Blvd

Time

8:00 am - 2:00 pm

Admission

Free
Description
Join the 36th Annual Capitol March for the Dream on January 16, 2017!
The March for the Dream includes the Capitol March and the Diversity Expo. This free event honors the legacy of Martin Luther King Jr. and dramatizing the issues that can impact our future. As Northern California's largest Martin Luther King Jr. day march, this event attracts a diverse crowd of 28,000 very enthusiastic participants to California's Capitol for day of civic engagement, reflection and fun. No matter your cause, the principles for change never change: March, Stand-Up, Speak-Out!
1.  SHIRT DAY: 9a.m. to 2pm. Purchase your official March for the Dream shirts, Learn about the March and Volunteer Orientation (Sacramento City Unified School District–5735 47th Avenue, Sacramento, CA 95824) Saturday, January 14, 2017
THE KING DAY SCHEDULE — Monday, January 16, 2017
2.    EXTRA MILE BEGINS: 8a.m. – 8:30a.m. The ceremonial start of the march for leaders and Oak Park residence (Oak Park Community Center—3425 Martin Luther King Jr. Blvd.)
3.    THE OFFICIAL START OF THE MARCH: 9a.m. – 9:30a.m. The official start of the march begins at Sacramento City College (3835 Freeport Blvd.)
4.    THE MARCH ARRIVES AT THE CONVENTION CENTER: 11:15a.m. – 11:45a.m. The march arrives at the Sacramento Convention Center and passing by our reviewing stand (Sacramento Convention Center—1400 J Street)
5.    THE DIVERSITY EXPO BEGINS: 10a.m. – 2p.m. The main stage program and opening ceremonies will start promptly at noon in addition to the activities that will be in full swing. (Sacramento Convention Center—1400 J Street)
6.     FOOD WILL BE AVAILABLE: You will have plenty of food options when at the end of the march.
7.     REGIONAL TRANSIT BUSES:  Buses will shuttle walkers back to their points of origin immediately upon arrival
10.  REMEMBER, "THE MARCH FOR JUSTICE NEVER ENDS UNTIL THE NEXT ONE BEGINS." 
Find other events tagged under: freedom, human rights, martin luther king jr
Event Categories