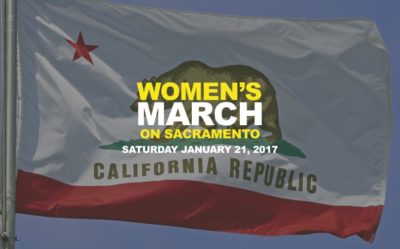 This event has expired.
When

Sat, January 21 2017

Where

California State Capitol
1315 10th Street

Time

10:00 am - 5:00 pm

Admission

Free
Description
The march to the California State Capitol building starts at 10am at Southside Park.
The rally is from noon-5pm at the West steps of the Capitol building.

OFFICIAL STATEMENT, From National Organizers (altered for Sacramento, California)
On January 21, 2017 we will unite in Sacramento, California. The National March will happen on the same day in Washington, DC and others in city's across the United States. We stand together in solidarity with our partners and children for the protection of our rights, our safety, our health, and our families — recognizing that our vibrant and diverse communities are the strength of our country.
The rhetoric of the past election cycle has insulted, demonized, and threatened many of us–women, immigrants of all statuses, those with diverse religious faiths particularly Muslim and Jewish, people who identify as LGBTQIA, Native and Indigenous people, Black and Brown people, people with disabilities, the economically impoverished and survivors of sexual assault. We are confronted with the question of how to move forward in the face of national and international concern and fear.
In the spirit of democracy and honoring the champions of human rights, dignity, and justice who have come before us, we join in diversity to show our presence in numbers too great to ignore. The Women's March on Washington and it's sister marched throughout the country will send a bold message to our new administration on their first day in office, and to the world that women's rights are human rights. We stand together, recognizing that defending the most marginalized among us is defending all of us.
We support the advocacy and resistance movements that reflect our multiple and intersecting identities. We call on all defenders of human rights to join us. This march is the first step towards unifying our communities, grounded in new relationships, to create change from the grassroots level up. We will not rest until women have parity and equity at all levels of leadership in society. We work peacefully while recognizing there is no true peace without justice and equity for all.
HEAR OUR VOICE.
This is not an anti-movement; this is an opportunity for people to come together to stand for love, respect, and inclusion.
This is an INCLUSIVE march, and EVERYONE who supports women's rights are welcome:
– Women & Girls & Femmes & GNC
– Men & Boys
– Families
– People of Color
– Immigrants
– LGBTQ Community
– People with Disabilities
– Climate Change Advocates
– ALL religious communities
– Anyone else who wants to come out in support!
Marcha de Mujeres En Sacramento
El 21 de enero de 2017 nos uniremos en Sacramento, California, para solidarizarnos con nuestros socios, niños y comunidad para la protección de nuestros derechos, reconociendo que nuestras comunidades vibrantes y diversas son la fuerza de nuestro país. La Marcha Nacional se llevará a cabo el mismo día en Washington, DC, y otros en la ciudad a través de los Estados Unidos.
En el espíritu de la democracia y honrando a los defensores de los derechos humanos, la dignidad y la justicia que nos han precedido, nos sumamos a la diversidad para mostrar nuestra presencia en números demasiado grandes como para ignorarlos. Las marchas de mujeres que se llevarán a cabo en todo el país el 21 de enero enviarán un audaz mensaje a nuestro nuevo gobierno en su primer día de gobierno y al mundo en el que los derechos de las mujeres son derechos humanos. Estamos unidos, en unidad por los Derechos de la Mujer y los Derechos Humanos.
La Marcha ocurrirá en el hermoso, diverso capitolio de California, Sacramento. California es el hogar de individuos de todas las etnias, orígenes nacionales, estado de inmigración, géneros, antecedentes socioeconómicos, creencias, identidades, edades, aquellos que son LGBTQQIA, individuos diferentes, veteranos y miembros activos del servicio y los trabajadores y familias que hacen que nuestra California sea genial. Vamos a honrar la diversidad de California, la ciudad de Sacramento, el Valle Central de California y su historia monumental y todo el interior de California del Norte y Central. Marcharemos en unidad y con gran humildad y honor para los que han marchado, protestado y luchado por los derechos humanos. Pedimos a todos los defensores de los derechos humanos que se unan a nosotros.
Les animamos a unirse en la unidad y a representar y movilizar a su comunidad.
We need your help!
Share your interests and talents – to Volunteer- fill out this form:
https://docs.google.com/forms/d/1Quqgid77mkY30mSKEgNz5klKCZgWWHfnzZvbK-o11II/viewform?ts=582bd0f8&edit_requested=true
Organize to The Women's March on Washington:
If you are from California and planning on attending the event in Washington DC, please visit the event page for the Official California Women March on Washington Page for more support in the DC march:
https://www.facebook.com/events/214100499025206/
Our sister Bay Area March event page:
https://www.facebook.com/events/299394117127175/
RIdeshare/ Buses
To list or find a chartered bus:
http://rallybus.net/womens-march-on-sacramento-ca/
To list or find a Rideshare/ Carpool
https://ridevu.com/…/carpool/womens-march-on-sacramento-ri…/
Find other events tagged under: community, politics
Event Categories