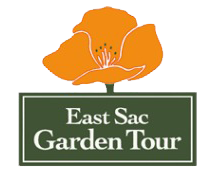 East Sac Garden Tour
Tour beautiful gardens located in and around the Fabulous Forties in the heart of East Sacramento, annual event on Mother's Day Weekend.
East Sacramento
Sacramento, CA 95819
May 13 & 14, 2017

Due to the record rainfall in Sacramento, the 2017 East Sacramento Garden Tour of the fabulous forties may provide some of the best garden displays in years. This is the 19th year for the annual family friendly garden event, scheduled for Mother's Day Weekend, May 13th and May 14th from 10:00 am to 4:00 pm. Seven gardens are featured on the tour along with other attractions such as a ChalkTop featuring David Lubin Elementary student's chalk art, a Tea Garden for lunch at Sutter Lawn, the Sweet Stop for refreshment and the Artisan Boutique.

The East Sac Garden Tour will provide ideas for your own garden as you stroll through beautiful streets of east Sacramento on Mother's Day weekend. All proceeds from the tour directly benefit children's education at David Lubin Elementary, the first STEAM elementary school in the Sacramento Unified School District.

Tickets are available online: www.eastsacgardentour.com/tickets. Tickets will also available at participating East Sacramento businesses. Visit the website for locations: www.eastsacgardentour.com. Tickets purchased through May 12th are $20. Tickets purchased on Mothers' Day weekend are $25 and can be purchased at David Lubin Elementary (3535 M Street). Children 12 years and younger are free.