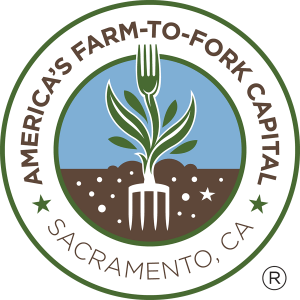 Farm-to-Fork Festival
Annual event in September as part of Farm to Fork Week
Capitol Mall
Capitol Mall & 7th Street
Sacramento, CA
9/23/17

The Farm-to-Fork Celebration Returns This September!

Farm-to-Fork Fresh Food Drive – September 6, 2017
Restaurant Weeks – September 8-17, 2017
Legends of Wine – September 14, 2017
Farm-to-Fork Festival – September 23, 2017
Tower Bridge Dinner – September 24, 2017

Join us for the 5th annual Farm-to-Fork Celebration in September! Everyone's favorite events are back this year including the Fresh Food Drive in partnership with the Sacramento Food Bank & Family Services, Restaurant Weeks presented by the California Restaurant Association, Legends of Wine featuring Darrel Corti and David Berkley, the FREE family-friendly Farm-to-Fork Festival and the iconic Tower Bridge Dinner. The 5th anniversary of these exciting events will bring new features and even more fun than ever before!

For more information, visit farmtofork.com and sign up for our monthly newsletter now!

Designed to demonstrate where our food and drinks come from, the Farm-to-Fork Festival has proven to be one of the region's most popular events. The free event, hosted on the city's iconic Capitol Mall boasts an exciting selection of farm-to-fork offerings that are produced and available in the Sacramento region. Attendees will find food, wine and beer from regional eateries and purveyors, as well as live music, cooking demonstrations, a kids' zone, interactive booths from local grocers, farms and ranches and more. The inaugural festival in 2013 drew more than 25,000 people, and this year's event is expected to draw even more farm-to-fork fans.