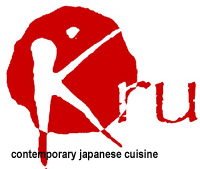 Kru
CLOSED – New location opening October 2016!
HOURS


New East Sac location opening Oct 2016 – stay tuned!
NEW EAST SACRAMENTO LOCATION OPENING OCTOBER 2016!

Important information about the NEW LOCATION: HERE

Kru combines traditional Japanese and Asian ingredients and prepares them with a contemporary culinary style. Using only the freshest ingredients, Kru also has special offerings of fish and sushi that are updated regularly. In addition, you'll find a fine selection of sake and wines that are available by the glass or the bottle.

From The Sacramento Bee:

Chef Billy Ngo "…loves Sacramento and, like Bruich (Chef, Enotria), wants to help elevate its culinary reputation."

Conversation Piece — Inside Publications

Billy Ngo: Local sushi master sounds off on fresh fish, fine dining and food flops

As executive chef and owner of Kru restaurant in Midtown, Ngo serves up contemporary Japanese cuisine to loyal customers who appreciate his fresh ingredients and creative dishes.