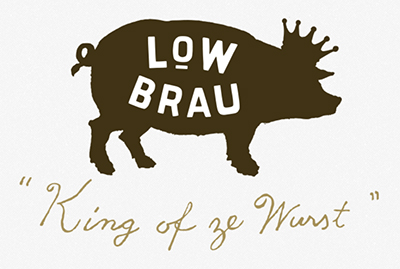 LowBrau Bierhall
Traditional and gourmet sausages, a wide selection of German and craft beers, communal tables and great times.
HOURS


Mon-Fri: 11am-2am
Sat-Sun: 10am-2am

Happy Hour: Mon-Fri 3pm-6pm
Brunch: Sat/Sun 10am-3pm
Lunch Combo Deals: Mon-Fri 11am-3pm
Description
Menu / Specials
Happy Hour
NEW / April 2017:

50% off all bottles of wine, every Sunday!
(call to confirm special is still on: 916-706-2636)

LowBrau is a gourmet sausage kitchen and beer hall located in the heart of Midtown on the corner of 20th & K St.

LowBrau sources the finest traditional, gourmet and exotic sausages from across the region and offers a wide selection of German, Belgian and American craft beers. LowBrau is also home of one of the most unique bar programs around featuring authentic schnaps cocktails!

Lunch – Dinner – Drinks

Willkommen LowBrau

Mondays: Lowbrau Beer Club – Open to anyone – 6-9pm

Located in Midtown at the MARRS building next to Block Butcher Bar

Click Here for more LowBrau Bierhall events.