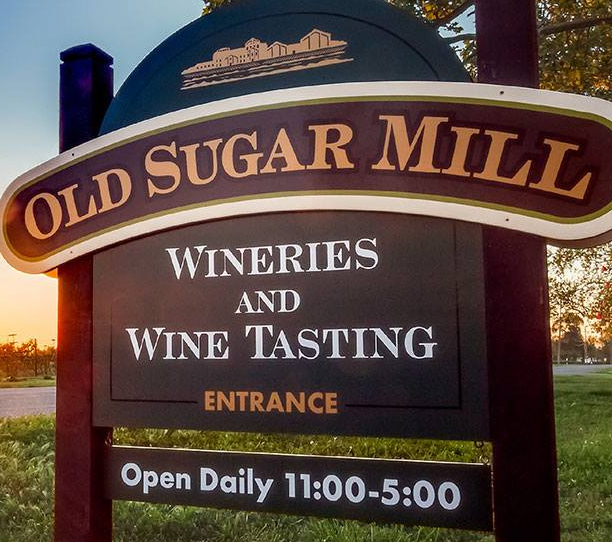 Old Sugar Mill
The Old Sugar Mill is home to a unique community of California wineries and their signature wines.
The Old Sugar Mill is home to a unique community of 10+ California wineries and their signature wines:

The wineries at the Old Sugar Mill, in Clarksburg, California, are a bridge to the rich agricultural heritage of the region, whose vineyards are staking their claim alongside the great wine growing regions of the world.

Free Parking!

Patio Seating

We have patio tables and chairs with umbrellas for 60 people on the back plaza. These tables are first come first serve, we do not take reservations for the patio.   Please do not relocate the tables and chairs. The patio is also a smoking free section.

Family Friendly

While wine tasting itself is strictly an adult endeavor, but with the introduction of new family attractions — and several other little-known charms — you can customize your activities, venture off the beaten path, and create an experience your family will never forget.

Picnic Friendly

We welcome picnicking, but due to our licensing no other alcoholic beverages besides what is purchased at the Old Sugar Mill are allowed.   In other words, no outside wine, no beer, and no hard alcohol on premises.  When discovered we will ask you to return them to your vehicle.

Pet Friendly

Pets need weekends too.  Pets are welcome in a carrier or on a leash at all times.

Pet lovers also stay tuned to our events page for the two pet adoption events we hold with Happy Tails Pet Sanctuary.

Green Practices

Our recycling bins fund the Clarksburg Recycles Foundation which funds scholarships for the Delta High School.  Every bottle and can helps so please make sure to sort your trash and recycling.

Beyond recycling our customer trash, and also recycle all our production and retail recyclables.

We are working with PG&E to replace all our light fixtures and light bulbs with LED lights.

Cycling and Bike Racks

The Old Sugar Mill is a great place to ride to.  We have restrooms, drinking fountains, and bike racks.