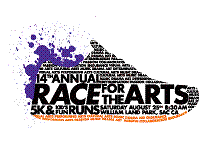 Race for the Arts
Annual event that takes place in August, benefiting California nonprofit arts programs
William Land Park
3800 Landpark Drive
Sacramento, CA

916-966-8893
sriceecp@aol.com
August 26, 2017

Run, walk, jog, cheer, perform, staff a booth, visit a booth, raise pledges, donate a pledge  ­̶  it's easy to get involved.  Grab your running shoes, friends, family, co-workers, and neighbors and head out to the 19th Annual Race for the Arts in Sacramento's shady William Land Park.  Race for the Arts is for serious runners (5k timed by B-tag) and for casual runners/walkers as well.  Register and receive an event T-shirt, refreshments (don't miss the samples from the Pizza Rock booth) and exclusively designed  socks by Trumpette.  Entertainment along the racecourse.  Fees for registration vary depending on age and date of registration  Check www.raceforthearts.com for pre-registration sites and updates.

Experience the arts yourself at the many hands-on booths.  A visit to the Sacramento Philharmonic booth is a thrill for all ages.  Pick up a wind or string instrument and try your hand.  Don't miss Capital Pops Concert Band performing at its booth.    Bring  a picnic or sample some of the food available, then sit, relax and enjoy the diverse entertainment on the amphitheater stage.

Register online, at the race, at Fleet Feet (2311 J St, Sacramento on August 25), or at Starbucks (4005 Manzanita Ave, Carmichael on August 12), or check the website for updates on pre-registration sites.  Teams of 10 or more receive a 20% discount.

Race for the Arts is more than a run, it's an experience.  It's also a great way to help your favorite CALIFORNIA-WIDE nonprofit visual, performing, cultural, literary arts organization and school music, drama, literary, and art program.  They receive 100% of pledges designated to them.  It's simple  ̶ you decide what nonprofit arts organization or school program you want your pledges to benefit.  Write  their name on the line provided on the Pledge Form.  Collect pledges and mail them in to the address on the Pledge Form.  Over the past 18 years, over 200 arts groups and school programs have benefited, and that number can keep growing.  Pledges are not a requirement to participant in Race for the Arts.

Coming from out of town?  Check out https://www.visitsacramento.com/hotels/race-for-the-arts/

*Race for the Arts is an event with exercise, entertainment, and plenty of fun. Run or walk and be entertained by costumed characters, music, art, dance, and interactive booths. Raise funds for any California nonprofit visual, performing, and cultural arts organizations or school music, drama, and art programs. 100% of pledge monies benefit your designated organization. Pledges are not a requirement of the Race, but they're a great way to raise awareness and funds for your organization and school program.