Shop Small & Local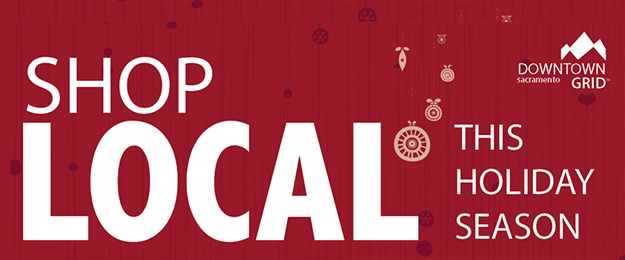 Shop the Grid this Holiday Season!

We'll be adding to this list regularly throughout December and January so check back.
Also check out our local holiday dining guide:
>>FINE DINING on the Grid
>> Casual DINING w/Family & Friends
Specialty Shops

Andy's Candy Apothecary 
High-end and classic candy, chocolates, gifts, and treats – world sources, from handcrafted gourmet chocolates to quality versions of classic sugar candy.   1012 9th St / 916-905-4115 / Open daily or shop online: http://andyscandystore.com/


Tea Cozy
A special shop featuring fine teas, tea accoutrements, British food items & gifts. We offer quality loose-leaf teas; rare white teas, exotic greens and oolongs, herbal and flavorful black teas from all over the world. Or for those looking for their favorite brands, you'll find: PG Tips, Barry's Teas; Taylor's of Harrogate; Tea Forte and more. 1021 R St / Open Tu – Sa.


Time Tested Books – 15% OFF COUPON
Providing the Sacramento area with quality literature since 1981. New and used books plus author signings, readings, lectures and music performances.   1114 21st St / 916-447-5696. Open daily.


City Bicycle Works  Bicycle – 20% OFF Parts/Accessories COUPON
Your local bike shop & riding community, carrying a wide selection of bikes for all from kids bikes, commuter bikes to high end race bikes. Plus a huge selection of accessories AND exceptional service!    2419 K St / 916-447-2453

Little Relics Boutique & Galleria
Provides a wide range of prices and tastes – specializing in Artisan Created Contemporary Fine Jewelry, Ultra Local Art by Midtown and Sacramento Regional Artists. The gallery is home to Eric Decetis Original Cartoons and Metal and Silversmithing by Susan Rabinovitz. NEW: Jewelry Repair and Ring Sizing.   908 21st St / 916-716-2319

Chefs' Olive Mix
Taste and mix over 64 varieties of Ultra Premium Single Cultivar Extra Virgin Olive Oils, Fused / Infused Olive Oils, Dark Balsamics, White Balsamics, Specialty Vinegars and Gourmet Oils.  131 J St / 916-706-3105 / shop online: http://chefsolivemix.com/

Art of Toys
One of a kind, hard to find, rare, vintage, collectible and modern toy art from around the globe. In Midtown at 1126 18th St. / 1126 18th St  shop online at artoftoys.com

Koukla Kids  – $10 OFF COUPON
Children's Apparel, Accessories & Gifts For Boys and Girls 0-10. Clothes from fun and funky to functional. 3809 J St / 916-254-5437.

Sunlight of the Spirit – 15% OFF COUPON
An interfaith and recovery store offering books, sacred art, prayer beads, music, statues, meditation gear, yoga and meditation classes, candles, jewelry, incense, recovery medallions, cards and more!   2314 J St / 916-440-1533.

University Art
Premiere art and framing supplies and a unique selection of gifts items for all ages. 2601 J St / 916-443-5721.


Capital City Loan & Jewelry 
Friendliest Pawn Shop in town! Quick cash plus deals on instruments, tools, jewelry, bikes and much more. Check us out in-store or online.   1708 Broadway (7 locations in Sacramento and 1 in Roseville) / 916-822-5626 / Open daily


Boutiques
Cuffs Boutique – 15% OFF COUPON
New and vintage midtown boutique for men and women since 2004.
2523 J St / 916-443-2881


Purpose
Midtown's newest boutique is beautiful and filled with unique items created by makers and designers from across the globe.
Each item is carefully chosen with Purpose and fair trade in mind so you can shop and do the right thing – all at the same time. "Pretty without purpose is powerless." Professional in-house alterations available. 1423 28th St / 916-426-8037.

Freestyle – $5 OFF COUPON
Freestyle Clothing Exchange is a buy/sell/trade clothing store for contemporary, name-brand fashion. 2101 L St / 916-441-3733.


Heart Clothing Boutique – up to $20 OFF COUPON
A petite boutique, custom-made by owner Vanessa to provide her clientele with an extraordinary experience. Great finds at great prices. 1903 Capitol Ave / 916-441-1359