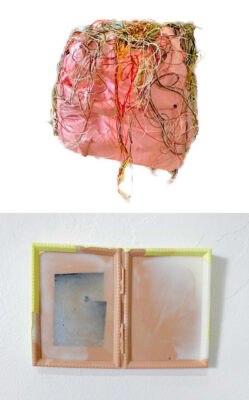 Description
ARTHOUSE on R is proud to present the art exhibition "(Re)Constructing Memory" at ARTHOUSE Gallery on R Street in Sacramento, November 11 – December 4, 2023.
Please join us as we feature the mixed media works of Erin Kaczkowski and Amy Vidra at ARTHOUSE Gallery, 1021 R Street, in Sacramento. The opening reception and opportunity to meet the artists is Saturday, November 11th, from 5pm-8pm. Artist talk is at 6pm. The exhibition is curated by Arthouse artists, Natalie Sakurai and Kate Farrall. 
In (Re)constructing Memory, our two artists explore the complexity of memory as a malleable and ephemeral means of understanding ourselves. Memory provides the basic touchstone for deeply understanding ourselves and our place in the world. Yet neuroscience and our own lived experience teach us that memory is unreliable. These artists grapple with the emotional weight of what it means to remember. While each artist's approach is unique and personal, there's a shared affinity for the beauty of imperfection, and the recombination of collage – both metaphors for memory.
Erin Kaczkowski's compelling imagery touches on the ephemeral—what it feels like to almost remember something, but not quite. She works with themes of loss, fragmentation, and disruption. Recently, she's created resin, oil paint, and collage casts of found picture frames, exploring the concept that photo frames can be a metaphor for "the feeling or visual expression of remembering."  
For Amy Vidra, memories are the stories we tell ourselves, creating our sense of self. Understanding that memory is malleable, her work reconsiders memories that no longer serve her. Her recent series explores the concept of memories as "baggage" that we carry over time. Her work is visceral and colorful, often pieced together in the way our memories feel pieced together, like a collage of images, textures, and emotions.
In addition to (Re)Constructing Memory, ARTHOUSE's 19 resident artists will open their studios to the public for Second Saturday, November 11, from 5:00-8:00 PM.
To learn more about Erin Kaczkowski, please visit: www.erinkaczkowskistudio.com
To learn more about Amy Vidra, please visit: www.amyvidra.com
To learn more about Arthouse, please visit: www.arthouseonr.com 
To learn more about Natalie Sakurai, please visit: www.nataliesakurai.com 
To learn more about Kate Farrall, please visit: www.katefarrall.com 
Find other events tagged under:
Event Categories