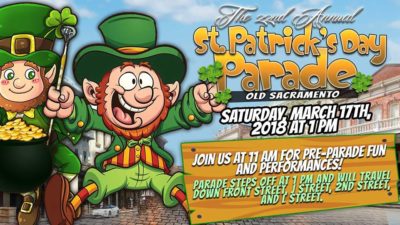 Description
Hundreds of colorful marchers dressed in green, along with Irish and Highland dancers, pipe and drum bands, historic re-enactors and a variety of cultural organizations all join together to be a part of the 22nd Annual St. Patrick's Day parade on Saturday, March 17, 2018. The parade steps off promptly at 1:00 p.m. from Neasham and Front Streets in Old Sacramento and proceeds throughout the national historic landmark district.
What time should you arrive?
Musicians and dancers wil begin performing at 11:30 throughout the district! Find them on L Street, 2nd and K Street, and J Street! All performers will visit these three stops. Performing Groups TBA.
Where should you watch the parade?
For the best view, head to the boardwalks of L Street, Front Street, J Street, and 2nd Street!
What else is going on?
After the parade, head to 2nd and K Street to sing and dance along with The Mighty Murphys, an acoustic band playing instruments from the Irish tradition. They'll play on stage 2-3pm.
Head to K Street to visit our Vendor Village and explore fun local businesses. Don't forget to stop and eat at one of our many restaurants and visit the local shops and merchants!
Find other events tagged under: family, holiday, old sacramento, parade, st. patrick's day events
Event Categories