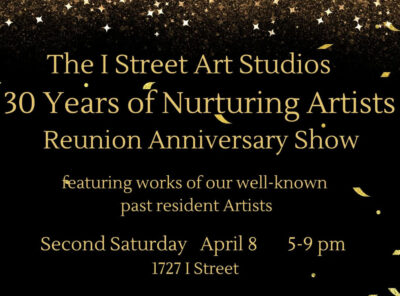 Description
The 30th Anniversary Reunion Show of The I Street Studios
5pm – 9pm
The I Street Art Studios are the oldest continually operating Studios and Gallery in Sacramento.   The Studios have endured  as the Sacramento art scene blossomed in the 70's, grew in the 80's and emerged as a great block party, in the early 2000's, making Sacramento an artist's paradise.  For 30 years the studios gave artists a home for their work and nurtured artists from all backgrounds and training.   Its artists donned their masks during covid, kept working, and it continues along its path as as a home for emerging and established artists willing to share their love of the arts every Second Saturday.  
Now it is time to come back home to a special Second Saturday. Show featuring the works of many of the past artists who have supported and been nurtured by The Studios.  
The I Street Art Studios April 8  (5-9 pm) show features the 2-D and 3-D  works of former associates:  Bluewater Avery – Michael Mikolon – Rita Barnes – Linda Nunes – Barbara DeWein – Vernon Peasenell – Bob Dreizler – Jason Richardson – Linda Gelfman – Bob Wadman -Patris. With work also shown from former artistsDavid Wiley and Gilbert Amavisca. And in memory of  Greg Barton *   Cori Kelly* Jim Ferry* Shar Sylvestri*
Come by The Studios, still at 1727 I street,  to visit with the artists, enjoy the art, and  reminisce the past.    You can check out our documentation of the art history of our location, and in addition, visit the four studios of the 16 current resident artists.
Find other events tagged under:
Event Categories