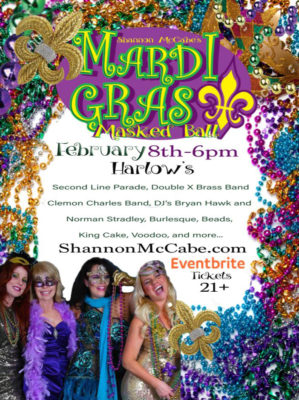 Description
Mardi Gras in Sacramento! Join Shannon McCabe and her Krewe at our 5th Annual Masked Ball at Harlow's on Saturday 2/8 at 6pm!
About this Event
Shannon McCabe is a lover of Mardi Gras and wanted to bring that passion to Sacramento to show ya how it's done in the Big Easy, New Orleans! We will bring you some amazing Mardi Gras experiences, cocktails and dancing so join us won't ya?
Tickets are only $25 through January 15th~
At the beautiful Harlow's Restaurant and Nightclub
Mardi Gras Music & Second Line Parade with the ALL FEMALE- Double X Brass Band
Mardi Gras Decor
Live music by the Clemon Charles band
DJ Bryan Hawk and DJ Norman Stradley SF- Lots of dancing!
King Cake
Ana Maria Perales and the AMPED Entertainment Dancers
Crowning of the new King & Queen by our 2019 Kings, Tim and Joseph!
Voodoo Ritual with Drummers from Peter and the Eye of the Sphinx, Juniper Willow and Jessica Faith
Costume Contest for best Mardi Gras Costume with Prizes!
Second Line Parade begins at 6pm- Arrive at 5:30 for pre check in!
Outdoor Patio with Fire Pits
Mardi Gras Burlesque Performance by Sugar Cheeks
Beads!
& so much more await you…
THIS PARTY SELLS OUT EVERY YEAR, and we only have 300 more tickets for sale! Make sure to connect with us on Facebook for insider events and things happening within this party!
Follow us on Facebook at: https://www.facebook.com/TheVampireBall
RSVP on the Official Invite at: https://www.facebook.com/events/756961194715229/
Find other events tagged under:
Event Categories