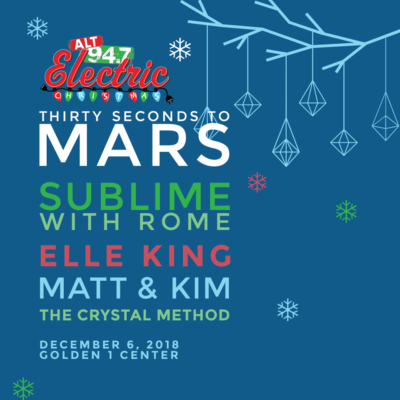 Description
Official website: 30 Seconds to Mars, Sublime with Rome, Elle King, The Crystal Method
Facebook: Alt 94.7, 30 Seconds to Mars, Sublime with Rome, Elle King, Matt & Kim, The Crystal Method
Alt 94.7 Electric Christmas is back for the holidays with another great lineup including Thirty Seconds to Mars, Sublime with Rome, Elle King, Matt & Kim and The Crystal Method. Catch five great acts in one night when Electric Christmas returns to Golden 1 Center on December 6.
Presale starts at 10 a.m. Get exclusive access with the code: SCARLET
THIRTY SECONDS TO MARS – comprising Jared Leto, Shannon Leto and Tomo Milicevic – has sold over five million albums worldwide and the band's videos have more than 300 million views on YouTube. The group has received numerous awards, including a dozen MTV awards worldwide, a Billboard Music award and honors from NME, Kerrang! and Fuse.
Throughout the past two decades, the musical landscape has continually merged, morphed, and matrixed, fractured in countless directions while intersecting at the most unexpected points. Electronic music underwent a renaissance in the aughts, rising out of the warehouses and blank spaces and overtaking the biggest festival fields in the world. THE CRYSTAL METHOD followed a similar trajectory since their formation in 1993. The Grammy Award®-nominated, platinum-certified trailblazing duo—Ken Jordan and Scott Kirkland—set the stage for the genre-mashing electronic sounds that fuel the current zeitgeist.
EVENT WEBSITE: HERE
Find other events tagged under: live music sacramento
Event Categories