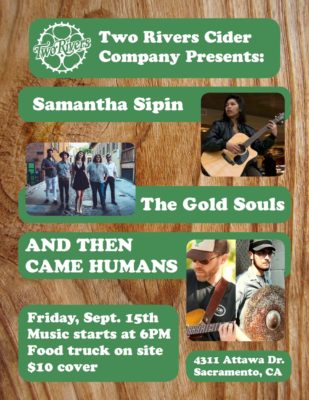 Description
Celebrated drummer and composer Ryan Scott Long has pulled together a 3 band bill that will be performing at Two Rivers Cider Co. on September 15. It'll an evening of talent and music you won't want to miss!
Samantha Sipin kicks us off with her guitar, some fun covers, and powerful original songs. Fun, local Sacramento group The Gold Souls are up next, bringing hot blues with a side of soul that gets your feet bouncing and your hips swaying. Up last and headlining the night is Ryan Scott Long and Mike Sopko performing as AND THEN CAME HUMANS, an indie rock/funk/blues duo that has toured all over the country ($10 cover goes to support the musicians).
KnifeLyfe Catering is the food vendor on site providing a fresh and rotating menu that is friendly to vegetarians and carnivores alike. The tasting room at Two Rivers Cider Co has up to 15 hard ciders on tap at once so you can explore new flavors or find old favorites.
All ages welcome. Two Rivers is a family friendly, dog friendly, bike friendly venue. Ride your bike and get $1 off your first cider!
Find other events tagged under: music, shows
Event Categories