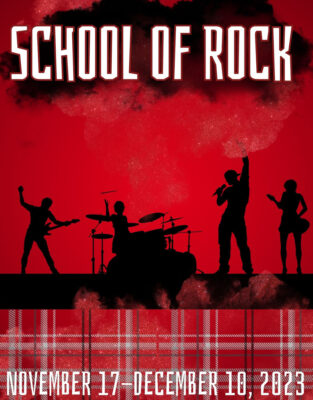 Description
Tom and Meg Stallard present Andrew Lloyd Webber's
School of Rock the Musical
November 17 – December 10, 2023
Fridays and Saturdays at 7:30 p.m.
Sundays at 2:00 p.m.
Based on the hit 2003 movie starring Jack Black, School of Rock the Musical follows Dewey Finn, a failed, wannabe rock star who earns extra cash by posing as a substitute teacher at a prestigious school. There he turns a class of straight-A pupils into a guitar-shredding rock band. But can he get them to the Battle of the Bands without their parents and the school finding out? With its live kids' rock band, energetic score, and inspiring story of students discovering their own musical talents while learning important life lessons about confidence, self-expression, and teamwork, this production is the perfect one to share with family and friends during the holiday season.
Content Advisory: School of Rock the Musical touches upon some adult themes, such as parental pressure, dissatisfaction with one's career, and challenging societal norms. These themes are presented in a lighthearted and comedic manner but may require some contextual explanation for younger viewers. On occasion mild profanity and slang is used, and the show prominently features energetic, amplified rock music with elements of rebellion, individuality, and nonconformity. Please take this into consideration when determining if it is appropriate for your child.
Performances times: Fridays and Saturdays at 7:30 p.m., Sundays at 2:00 p.m. All seating is reserved, with ticket prices: $30 Adults, $28 Seniors (62+), and $15 Children under 17. Balcony pricing: $18 Adults and $9 Children.
Purchase tickets online at www.WoodlandOperaHouse.Org and at the Box Office (530) 666-9617. Located at 340 Second Street, Box Office hours are: Wednesday – Friday from 10:00 a.m. to 1:00 p.m. & 2:00 p.m. to 5:00 p.m.
SCHOOL OF ROCK is presented by arrangement with Concord Theatricals on behalf of The Really Useful Group. www.concordtheatricals.com
Based on the Paramount movie by Mike White
Book by Julian Fellowes
Lyrics by Glenn Slater
New Music by Andrew Lloyd Webber
Find other events tagged under:
Event Categories