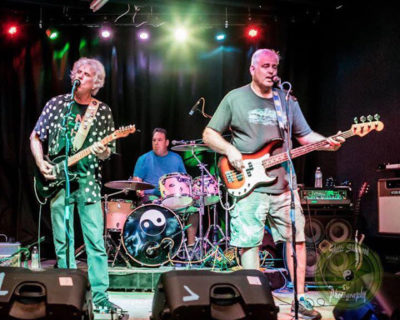 Description
Facebook: here
Blame The Bishop exists at the intersection where traditional American rock and British Pop meets…
To deal with the elephant in the room: Blame The Bishop is not a band of young, fresh faces. To that elephant, the members of Blame The Bishop say, "So what?".
The band's namesake, guitarist/singer Warren Bishop puts it this way: "There is no expiration date on creativity. No one can stop adding on the years, but the same emotions and feelings that inform the songs you write in high school stay with you for your life; the perspective changes, but you love, you hurt, you have passions … all that never goes away and remains a source for songwriting inspiration."
Warren and guitarist/singer Todd Weber have been playing together for eleven years through The Holy Men/The Onlymen combination before a reboot as Blame The Bishop. Both contribute songs to the band and the rhythm section of bassist/vocalist Dan Stapleton and Kevin Gailey on drums drive them forward.
In addition to their original songs, the band often will dig into their collective memories and pull out some choice covers. Says Warren: "We played a wine tasting event at Strawberry Lodge not long ago. We started playing our normal set, but after sizing up the crowd and a quick huddle we tossed the set list and went deep for the classics. We've all had our turns on the bar circuit and while it's not what we normally do we had a blast and so did the audience."
Blame The Bishop is currently recording material for two separate CDs, the first of which will feature new songs and new takes on older songs; the second one will be all new material recorded with legendary Sacramento producer/engineer David Houston.
Blame The Bishop is:
Warren Bishop: guitar and vocals
Kevin Gailey: drums
Dan Stapleton: Bass and vocals
Todd Weber: guitar and vocals
EVENT WEBSITE: HERE
Find other events tagged under:
Event Categories