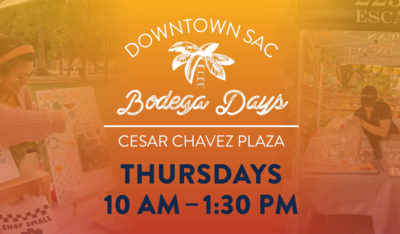 Description
Bodega Days at Chavez Plaza
Farmers and Makers Market
Thursday from 10 a.m. to 1:30 p.m.
Welcome to Bodega Days at Cesar Chavez Plaza! Starting May 5, enjoy a weekly market every Thursday in Downtown Sacramento with farm-fresh produce, freshly baked bread, locally crafted gifts and artist creations, and a variety of food vendors.
Take a long lunch break and step away from the office for a stroll through the park.
Find other events tagged under:
Event Categories