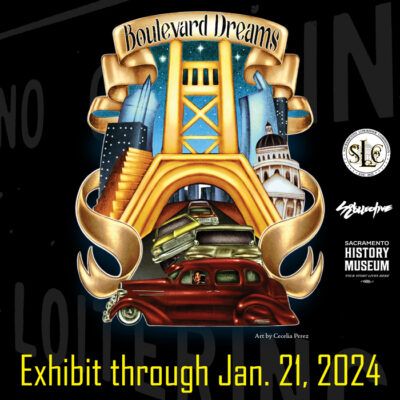 Description
Sacramento History Museum in Old Sacramento is OPEN DAILY
In partnership with the Sacramento Lowrider Commission, and with support from Sol Collective and the many Sacramento lowrider car clubs, the Sacramento History Museum is excited to present an all-new "Boulevard Dreams" exhibit opening on September 23, 2023, and continuing through January 21, 2024.
Born in California, lowrider and cruising culture is quintessentially American – an expression of our diverse community. Sacramento has a rich history of cruising culture with more than 40 lowrider car clubs dating back to the 1970s. Sacramento History Museum's "Boulevard Dreams" exhibit introduces some of the stories of the clubs, fashion, music, and art, through memorabilia shared by local lowrider club members. The exhibit also explores the discrimination and prejudice that led to the city-wide ban on cruising in the 1980s, the grassroots efforts to rescind that ban in 2022, and the electric future ahead.
Sacramento History Museum is working in collaboration with The California Museum that is debuting a "Boulevard Dreams" exhibit in late October that also focuses on lowrider culture but with a statewide focus.
Located at 101 I Street at the Old Sacramento Waterfront, the Sacramento History Museum is open daily from 10 a.m. to 5 p.m. (except for Thanksgiving, Christmas and New Year's Day).
About the Sacramento History Museum
The Sacramento History Museum is managed by the Sacramento History Alliance, a nonprofit 501(c)3 organization that also manages the Sacramento Visitors Center, Old Sacramento Underground Tours, and Living History Programs. For more information about the Sacramento History Museum and Sacramento History Alliance, please visit www.sachistorymuseum.org.
Social media tags: @SacHistoryMuseum, #SacHistoryMuseum, #SacMuseums
About the Sacramento Lowrider Commission
The Sacramento Lowrider Commission is a multi-racial and multi-cultural organization who advocates for the lowrider community; empowers youth through STEM/Art, supports mental health well-being, and sponsors family friendly charitable events. For more information, please visit www.sacramentolowriders.com.
Social media tags: @Sacramento_Lowrider_Commission, #BoulevardDreams
Find other events tagged under:
Event Categories