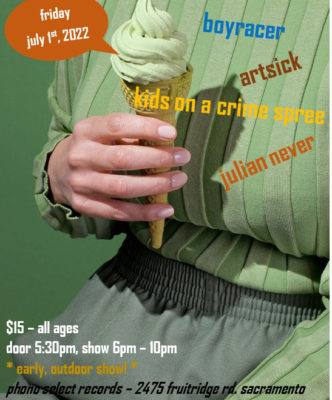 Description
Early, Outdoor Show at Phono Select
Early, outdoor show, 4 bands: Boyracer, Artsick, Kids on a Crime Spree, & Julian Never – representing fave independent labels Emotional Response, Slumberland, & Mt. St. Mtn.
Kick-off the 4th of July weekend with a bang and check out some brilliant sounds at this amazing show – Sponsored by Phono Select!
!
FREE Pizza supplied by our friends at Delish Pizza downtown. Free beverages provided too!
$15 – Doors 5:30pm, Show 6pm – 10pm
Masks optional
Find other events tagged under:
Event Categories