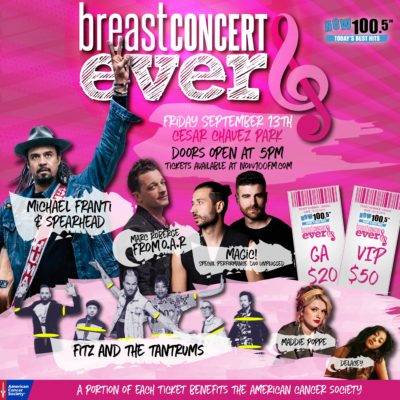 Description
Official website: Michael Franti, Fritz & The Tantrums
Facebook: Michael Franti, Fitz & the Tantrums
A benefit for the American Cancer Society
It's time for the Breast Concert Ever! Join NOW 100.5 at Cesar Chavez Park in downtown Sacramento on September 13th for a night you won't forget. You'll enjoy performances from Michael Franti & Spearhead, Fitz and the Tantrums, MAGIC!, Marc Roberge of O.A.R., Maddie Poppe, and Delacey. A portion of each ticket benefits the American Cancer Society. In addition to the concert under the stars, the event will feature vendors, food trucks, beer, wine, cocktails, and tons of activities for the entire family. This is an all-ages show.
*All performance times are subject to change
5:20pm – 5:35pm Delacey
5:50pm- 6:05pm Maddie Poppe
6:20pm – 6:50pm Fitz & The Tantrums
7:20pm – 8:00pm Magic
8:30pm – 9:15pm Marc Roberge
9:40pm- 10:25pm Michael Franti
Michael Franti is a musician, humanitarian, and filmmaker who is recognized as a pioneering force in the music industry. Franti believes in using music as a vehicle for positive change and is revered for his energetic live shows, inspiring music, worldwide philanthropy efforts and connection to his global fanbase.
Once an outlier in his message of positivity minded political consciousness, Franti has found that message gaining momentum in the mainstream in recent years, a phenomenon that compelled him to push his artistry even further, stating "I feel a deeper sense of purpose in music today than I ever have in my career. My goal is to make the most inspiring music I possibly can for this intense, crazy and wonderful time we're all living in."
Michael Franti & Spearhead kicked off their "Stay Human Tour" in June and will be touring cities throughout the U.S. and Canada throughout the summer. This summer's tour features special guests, Dustin Thomas, HIRIE, AHI and Victoria Canal.
Franti's Stay Human full-length documentary, featuring songs from their upcoming new album is currenlty being screened at U.S. and International film festivals throughout the U.S.
Since forming in 2008, Fitz and the Tantrums have always been a band hell-bent on evolving. Having made a splash with the soulful R&B-revival sound of their debut album, 2010's Pickin' Up The Pieces (released on Dangerbird Records), the band offered up a New Wave-influenced dance-pop sound with its Elektra Records debut, 2013's Heatseekers No. 1 More Than Just A Dream, which featured the gold-certified and #1 Alternative Radio singles "The Walker" and "Out of My League." The album's success sent Fitz and the Tantrums on a two-year touring odyssey, which enabled the Los Angeles-based sextet — known for its explosive, no-holds barred live shows — to cement themselves as one of the country's hottest live acts.
EVENT WEBSITE: HERE
Find other events tagged under:
Event Categories