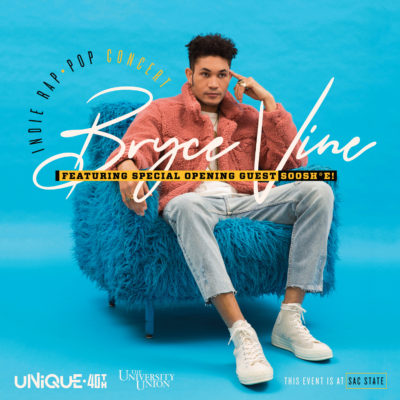 Description
The University Union's UNIQUE Programs is pleased to host hip-hop artist, Bryce Vine, with special guest, SOOSH*E, on Thursday, April 18th, 2019. The concert will begin at 7:30pm in the University Union Ballroom. Tickets are on sale now for $15 for early bird, $18 for Sac State students, and $22 for the general public. Each may be bought at www.SacStateUNIQUE.com or at the ASI Student Shop (Sequoia 311).
Bryce Vine (born Bryce Ross-Johnson) is originally from New York City, but moved to California when mother landed a role on NBC's Passions. Their move to inspired him to pursue a career in performing arts, and have succeeded since. Vine attended Berklee College of Music and explored various genres of music including gospel and jazz. He was signed by producer Nolan Lambroza, who is known for working with artists including Justin Bieber, Pitbull, and Lil Wayne. Vine's hit song, Drew Barrymore, is featured on Billboard's Hot 100.
Vine has collaborated with many artists, including G-Eazy, YG, and Zak Downtown. He has released two EP's, Lazy Fair (2014) and Night Circus (2016). This year, he released his first full-length album, Carnival (2019) and is currently on tour. He has performed at many venues, including Radio City Hall, The House of Blues, and the Golden 1 Center. Bryce Vine debuted his latest single, "La La Land," on March 1st, featuring YG, describing the amazing culture of Los Angeles.
The event is free for students and the general public.
For more information about ticket sales and upcoming UNIQUE events, visit www.SacStateUNIQUE.com  or call The University Union Information Desk at (916) 278-6997.
Find other events tagged under: concert, CSUS, hip hop, sac state
Event Categories