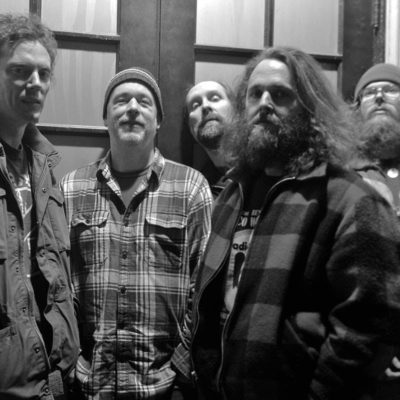 Description
Official website: Built to Spill
Facebook: Built to Spill, Prism Bitch
When Built To Spill wanted to find out what their music sounded like they locked themselves in Doug Martschs garage. Without a tentative conclusion or even a hypothesis the four members began to experiment. Their collaborative efforts lasted seasons and yielded dozens of hours of ADAT tape. The album You In Reverse documents the newest branch of Built To Spills chaotic, yet elegant evolution.
Doug Martsch formed Built To Spill in 1992. His intention was to sustain a project that would involve a rotating cast of musicians to record albums and tour. The first incarnation of Built To Spill included Doug, Brett Netson, and Ralf (Youtz). Recording in the middle of the night in order to get free studio time, they assembled 1993s Ultimate Alternative Wavers. For a few years and a few records band members came and went. In 1996, while recording the album Perfect From Now On (their Warner Bros. Records debut), Doug found a rhythm section he could not relinquish: Brett Nelson and Scott Plouf. This line-up toured and made records with additional guest musicians Brett Netson and Sam Coomes. In 1999, after the release of Keep It Like A Secret, Jim Roth joined the band as live co-guitarist.
Prism Bitch is a hard rock band that beamed down in 2016 in the dust and wind of New Mexico. The group started as a four piece and asexually reproduced a fifth member in 2017, resulting in a 5 piece mix of heavy guitar/keyboard layers blended with pop hooks/melodies/harmonies and occasional total noise freakouts; often compared to The Pixies and The Yeah Yeah Yeahs. In 2 years, Prism Bitch has gone from punk rock coffeehouse open mics to nominations in the Weekly Alibi's "Best of Burque" 2017/2018 music awards (for Best New Band, Best Party Band, and Best Stage Presence). In the last year Prism Bitch has had the privilege of sharing the stage with Shonen Knife, Le Butcherettes, and Built To Spill. PB spent the end of November in the studio in LA with Toshi Kasai, known for his work with The Melvins, Foo Fighters and Dave Matthews Band. Prism Bitch has a reputation for wild and performative shows, professionalism and friendship.
EVENT WEBSITE: HERE
Find other events tagged under: live music sacramento
Event Categories