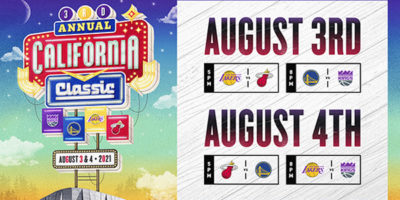 Description
Golden 1 Center is excited to host the 3rd Annual California Classic, a two-day summer basketball showcase with the Sacramento Kings, Golden State Warriors, Los Angeles Lakers, and Miami Heat! Players from the four teams will include rookies selected in the 2021 NBA Draft, sophomore NBA players, and athletes competing to make NBA and G League rosters.
This summer basketball celebration – Tuesday, August 3, and Wednesday, August 4 – will feature a double-header matchup each day with all four teams participating. Similar to other Summer League matches, modified game play rules will be in place, including 10-minute quarters.
2-Day Passes start at just $39 and include access to all four games!
Find other events tagged under:
Event Categories