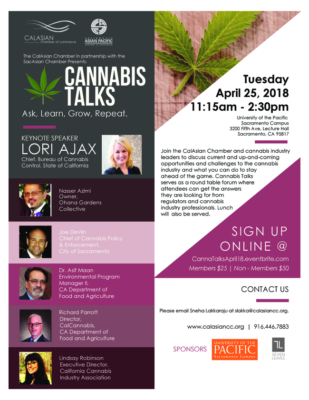 Description
Temporary licenses are being issued by the Bureau of Cannabis Control, CDFA's CalCannabis Cultivation Licensing, and CDPH's Manufactured Cannabis Safety Branch for cultivators, manufacturers, retailers, distributors, microbusinesses, testing laboratories, and event organizers are now in effect and businesses are operating in California's newly-legal commercial cannabis market. More than 3,000 cannabis operators, from Shasta Lake to the City of San Diego, now hold state licenses in the largest cannabis market in the country.
Get the latest updates from each State department on California's and Sacramento's licensing process and how the local and statewide process is evolving. Learn what is next for 2018 and beyond and how to prepare your business for these changes.
Join us and our keynote Lori Ajax of the Bureau of Cannabis Control and panelists Nasser Azimi of Ohana Gardens Collective; Joe Devlin of the Sacramento Office of Cannabis Policy & Enforcement; Dr. Asif Maan of the Manufactured Cannabis Safety Branch, California Department of Public Health; Richard Parrot of the California Department of Food and Agriculture; Lindsay Robinson of CCIA.
Find other events tagged under: cannabis, hemp, licensing, regulations
Event Categories