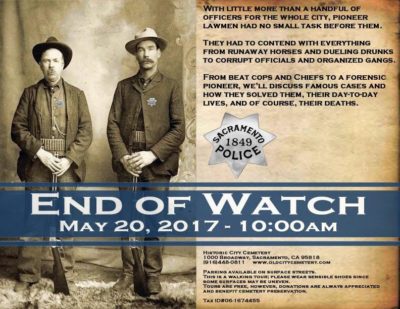 When

Sat, May 20 2017

Where

Sacramento Historic City Cemetery
1000 Broadway

Time

10:00 am

Admission

Free (Donations Accepted)
Description
With little more than a handful of officers for the whole city, pioneer lawmen had no
small task before them. They had to contend with everything from runaway horses
and dueling drunks to corrupt officials and organized gangs. From beat cops and
Chiefs to a forensic pioneer, we'll discuss famous cases and how they solved them,
their day-to- day lives, and of course, their deaths.
The cemetery is located at 1000 Broadway, Sacramento. There is free parking on
surrounding streets, with limited parking within the cemetery. Tours are free;
however, donations are appreciated and benefit cemetery preservation. For more
information, call 916-448- 0811.
Find other events tagged under: history, walking tour
Event Categories