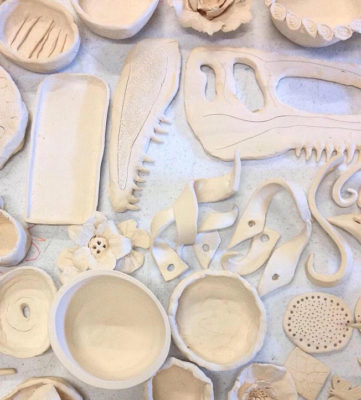 Description
Clay Lab
(contact Verge to confirm days/time/details)
instructor: This is not a class but Verge Staff is here to help!
category: Ceramics
for: Everyone! (Kids under 14 must be accompanied by an adult)
price: $25 or $15 for members (discounts with purchase of multiple passes)
Saturdays 10am-1pm
Tuesdays 5pm-8pm
We do not take reservations and space is limited. Occasionally we will close for an event but we try to always give notice. Please dress for the weather as we are now operating outside as well as in our classroom with the doors open.
Purchase a Pass
During Clay Labs, all supplies are provided. You may use up to 10 lbs of clay per class. We offer a cone 5 buff and also rotating clays (currently a speckled tan and a red clay). You are welcome to use our wide selection of clay tools, glazes, our slab roller and electric wheels (exception: if you are new to the potter's wheel you must first take one of our classes before using). Please consult our staff if you'd like to bring your own clay or glazes. We can fire up to 1 cubic ft of ceramics per lab session, if you'd like to fire more than this please talk to the staff and we will work out an appropriate fee. Find out more about classes here.
Totally new to clay? No problem
We welcome everyone, no matter your experience! However, this is not a class so it might help to do a little research before you arrive. There are many wonderful you-tube videos on different hand-building techniques to give you the basics of pinch pots, slab and coil building. We also love resources like Ceramic Arts Network. Our staff can offer a brief tutorial to get you started and we are always happy to answer your questions.
COVID-19 UPDATES
Everyone must wear a mask and respect social distancing guidelines at all times. We are currently hosting clay lab outside in our courtyard as well as inside the classroom with the doors open.

See all pricing and purchase passes here
You may pay ahead or at the door with cash, card, or check.
Firing:
We bisque fire at cone 04 and we offer a cone 5 glaze firing. All firings are in our electric kiln. If you have something to be fired, be sure to join our email list when you come in so we can notify you when it is ready to pickup. Due to our limited space, we can only store ceramics for 4 weeks after they have been fired. Pieces that are left for longer than 4 weeks are considered abandoned and will be donated or thrown away. If you need more time, contact us! We will always try to store your work for longer.
Find other events tagged under:
Event Categories