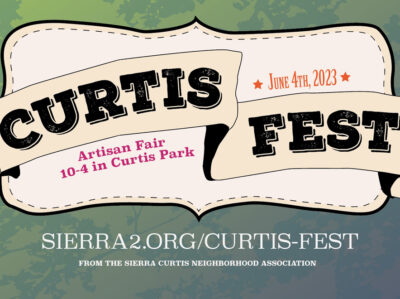 Description
10am – 4pm
Curtis Fest Artisan Fair 2023
Curtis Park, Sacramento, CA.
Sunday, June 4th from 10am to 4pm!
15th Annual Curtis Fest Artisan Fair is back under the shade of trees in the middle of Curtis Park. There will be 100 vendors selling handmade wares of all kinds. Food trucks on site including Chando's Tacos, Drewskis, Hefty Gyros, Smokin Ewe BBQ, Cowtown Creamery, and Good Roots Café. KC Kombucha, Twisted Dough, Kettle Corn Masters, and Carnival Concessions Shave Ice will provide additional snacks.
and we'll have live music throughout the day.
Be sure to bring the little ones for a full day of magic and whimsy by Pixie Tribe fairy troop.
This year Curtis Fest welcomes back many long-time artisans like Spacepig Press, Nudge Eco Store, Sandy Fong Whetstone Art, Heathered Wallets, Arizmendi Ceramics, Dania Lukey, and Driftwoods Clothing, as well as new vendors like Vicandarts' Garden Pots, Gifts From Eternity, Elevate Adornment, Coldwater Arts, Lotus Eco Arts, and Repurposed Curtis Park. The roughly 10-foot booths will be set up back-to-back in pods with plenty of room to wander between.
Guests can enjoy live music throughout the day and visit the music instrument petting zoo with the Library of MusicLandria. Enjoy hands-on art activities with Crocker Art Museum and help create a ceramic tile mural with Matthew Flores inspired by the Del Rio Trail. The tiles are part of the city's art activation project for the new trail. (Learn more at delriotrailart.org).
Be sure to bring the little ones for a full day of magic and whimsy by Pixie Tribe fairy troop including Kid in a Bubble, a Puppet Petting Zoo and a Wild Lawn Party. Entertainment for kids includes live music Jillian Van Ness as part of her artwork around the new Del Rio Trail. The Del Rio trail is an abandoned railway corridor that traverses south from the Sacramento River near the zoo all the way to the water tower in Meadowview, crossing through Land Park, South Land Park, Freeport Manor, Z'Berg, Pocket and Meadowview neighborhoods. When it's completed, residents will be able to walk, ride, skate and gather on all five car-free miles. The City of Sacramento has hired 20 local artists in Phase 1 to create artwork on and about the trail. Learn more about the artists and projects at delriotrailart.org and more about the construction at delriotrailconstruction.org.
Stop by and chat with our generous sponsors: SMUD and Grateful Dog Daycare. A Sierra 2/SCNA booth at the north end of the park near the food trucks will have vendor maps and additional information. Thank you for supporting local businesses and being respectful of our neighbors around the park
Find other events tagged under:
Event Categories