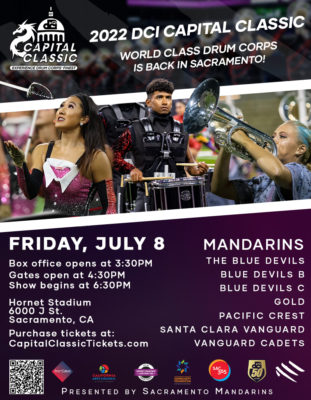 Description
Drum corps is back in Sacramento! Sacramento Mandarins is proud to announce DCI Capital Classic (formerly Moonlight Classic) will be taking on new heights in 2022 with more performances, a larger venue, and much more! Experience action-packed field performances by Drum Corps International's Top 10 World Class drum corps full of intricate, precision marching, elaborate choreography, and colorful pageantry by over one-thousand accomplished musicians and color guard. Best family entertainment! Food will be available for purchase.
Box office opens at 3:30 p.m.
Gates open at 4:30 p.m.
Show begins at 6:30 p.m.
Performances by:
(Line-up subject to change)
Mandarins (Sacramento, CA)
Blue Devils (Concord, CA)
Blue Devils B (Concord, CA)
Blue Devils C (Concord. CA)
Gold (Oceanside, CA)
Pacific Crest (Diamond Bar, CA)
Santa Clara Vanguard (Santa Clara, CA)
Vanguard Cadets (Santa Clara, CA)
Additional special performances
Find other events tagged under:
Event Categories