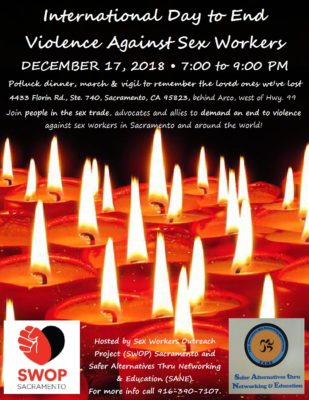 Description
Stand with us in Solidarity
Come out, march, light a candle, tell a story, sing a song, or just help observe the moment. Candles will be provided (but are limited, so please bring your own if you can). In the spirit of remembrance and healing, the Sex Workers' Outreach Project joins sex workers, allies and advocates from around the world in recognizing December 17, the International Day to End Violence Against Sex Workers.
Gary Ridgeway, also know as the "Green River Killer" confessed to killing 49 women, most of them sex workers, stating that he chose prostitutes as his victims "because they were easy to pick up without being noticed. I knew they would not be reported missing right away and might never be reported missing. I picked prostitutes because I thought I could kill as many of them as I wanted without getting caught." For years, many us were aware of the identity of the Green River Killer but were either afraid to come forward for fear of arrest or simply dismissed by police. This still goes on today and in our area. Something that most of us rather not think about.
In response, Annie Sprinkle and SWOP-USA co-founder Robin Few organized a memorial held on the lawn of San Francisco City Hall that was attended by between 60 and 80 on December 17th, 2003, the date of Ridgway's conviction.
Since then, December 17th has become known as the International Day to End Violence Against Sex Workers and has been observed annually in scores of cities across the world. It is during the week of December 17th that sex worker groups around the world stage actions and vigils to raise awareness about violence against sex workers and address issues relating to stigma and discrimination that allows violence against sex workers to occur with impunity and creates barriers when attempting to report violence.
We believe this is particularly important in the Sacramento area due to our findings while conducting interviews for our Needs Analysis of Sex Work in the Sacramento Area. During our interviews we became aware that serial rapists and violent offenders were flourishing here due to sex workers fear of stepping forward and they themselves being targeted.
Find other events tagged under:
Event Categories