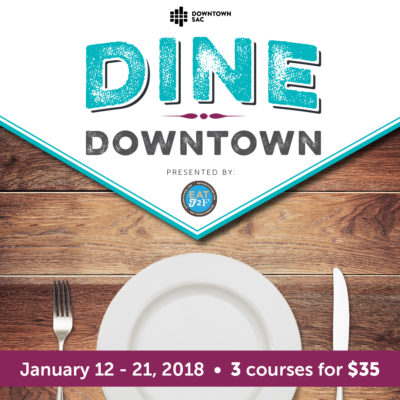 Description
Dine Downtown is back for its 13th year, returning January 12-21, 2018. This year, we're celebrating 30 of Sacramento's top restaurants, including four eateries new to downtown – Sauced BBQ & Spirits, Punch Bowl Social, Bennigan's and La Cosecha.
To date, Dine Downtown has generated an estimated $5 million in restaurant sales with nearly $400,000 generated last year. As we continue to welcome new restaurants to downtown, and to the event, we expect the economic benefit will continue its upward trajectory.
Please help us get the word out to excite the region as its favorite culinary celebration gets closer and closer.
Chefs and event organizers are available for in-studio and on-site cooking segments. Promotional partnership opportunities are available, as well.
If interested, please reply here to lock in dates ahead of the busy holiday season.
2018 Participating Restaurants:
Foundation Restaurant & Bar
Empress Tavern
Dawson's Steakhouse
The Melting Pot
Biba Restaurant
Rio City Café
The Porch Restaurant & Bar
The Firehouse Restaurant
Ten22
Esquire Grill
Paragary's
Skool Japanese Gastropub
Fat City Bar & Café
Frank Fat's
Downtown & Vine
Hook & Ladder Manufacturing Co.
Pilothouse at The Delta King
Cafeteria 15L
Iron Horse Tavern
Grange Restaurant & Bar
Ella Dining Room & Bar
Brasserie Capitale
Aioli Bodega Española
Kasbah Lounge
Sauced BBQ & Spirits
Punch Bowl Social
Bennigan's
Mayahuel
La Cosecha
The Red Rabbit Kitchen & Bar
Find other events tagged under: downtown restaurants, foodie events, restaurant week
Event Categories