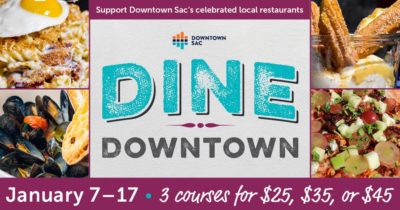 Description
The annual Dine Downtown program will return for its 17th year, January 7 through January 17, 2022. The 24 restaurants (and counting!) will have the option to serve Dine Downtown's infamous three-course, prix fixe menus for dinner, lunch and/or brunch at one of three convenient price points – $25, $35 or $45. Local foodies and families will be able to explore and support Sacramento's top restaurants for dine-in, take-out and/or delivery depending on the restaurant's offerings.
"The hugely popular Dine Downtown program celebrates our local chefs and restaurants that have created an iconic destination for dining in the heart of Sacramento," said Michael Ault, Executive Director of the Downtown Sacramento Partnership. "Restaurants have been through the ringer these past two years, and Dine Downtown provides an excellent opportunity to enjoy new culinary experiences and support some of our favorite restaurants."
Launched in 2005, Dine Downtown provides a significant boost for local restaurants during a critically important (and usually slower) period for the industry. In its nearly two decade run to-date, Dine Downtown has generated more than $6 million in restaurant sales for Central City restaurants.
2022 participating restaurants include:
The Red Rabbit Kitchen & Bar
The Pilothouse Restaurant at the Delta King
Hawks Public House
Hook and Ladder Manufacturing Company
Tequila Museo Mayahuel
Nash & Proper
La Cosecha by Mayahuel
Frank Fat's
Foundation Restaurant & Bar
Kasbah Lounge
Station 16 Seafood Restaurant & Bar
Echo & Rig
Dawson's Steakhouse
Kodaiko Ramen
The Firehouse Restaurant
Camden Spit & Larder
Hoppy's Railyard Kitchen & Hopgarden
7th Street Standard
Capitol Garage
Rio City Cafe
Tapa the World
Solomon's Delicatessen
The Porch Restaurant & Bar
Aioli Bodega Espanola
Maydoon
Brasserie du Monde
Find other events tagged under:
Event Categories