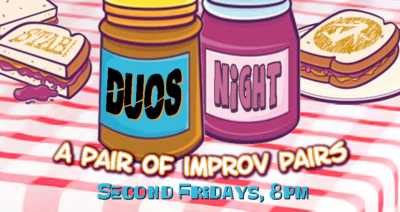 Description
It's Duos Night!
Two improv twos!
A pair of make-em-up pairs!
If you like your improv in twos, then we've got two twos of two just for you!
Friday night, January 11th, 8pm, $5
~
The Licorice Boys.
You love them. They love you.
They have friends. They love their friends. You love their friends.
They love that you love their friends.
Long form improv at its most chaotic and beautiful.
Masculine, savage and fluffy.
Arbitrary, sublime, mischievous and chewy.
All of these things describe a night with the Licorice Boys (and friends). All of these things and so many more?(!)
The Licorice Boys are Jack Brown, Chris Emery and Jesse Jones.
the Friends this month are:
Untold Union Stories of The American Civil War
(Adam Garn, Jordan Scott Giles & Kameron Schmid)
Friday, January 11th, 9pm, $5.
Yeah, that sounds like the Licorice Boys alright. That sounds like the Licorice Boys ALL OVER.
~
It's time to STAB! in the house that STAB! built!
STAB! brings together writers, stand ups and other regional gems to partake in a darkly intelligent live comedy panel show. Described as "Incisive wit that cuts to the bone." by the Sacramento News and Review, STAB's! off-beat format allows panelists 24 to 48 hours to create their own unique takes on various random prompts. Ranging from the online dating profile of The Virgin Mary to the tourism guide of Super Mario Brothers Level 1-1,
STAB! is a celebration of all things everything; it's like a jazz funeral for the collective conscience.
Friday, January 11th, host John Morris Ross IV welcomes Stephen Ferris, Bill Wallis, Jaime Fernandez and Jesse Jones into the comedy inception that is STAB! @ STAB! The show starts at 10pm and it's only $5. So come check out our new digs with the same ol' faces…
Find other events tagged under: stab comedy theater, stab!
Event Categories