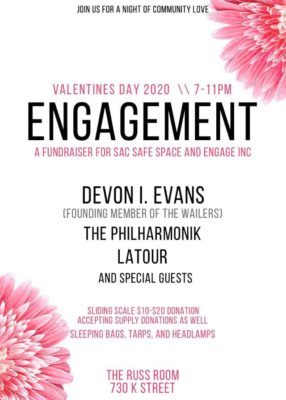 Description
Official website: here
Join us for a legendary night of love and community in Sacramento as ZFG and The Russ Room present ENGAGEMENT – A fundraiser for our friends at ENGAGE inc. and their hard work daily to support our unhoused neighbors through Sac Safe Space.
The event will be headlined by Devon I. Evans, a founding member of Reggae pioneers The Wailers, with special musical accompaniment from Sacramento locals Jay Sales, Nick Setnick, The Philharmonik, and Dominick Porras (of World Hood).
Performances include The Philharmonik, LaTour, Grace Loescher, Jeanette Sem, AndYes, and Andru Defeye, and special guests.
Hosted by Russell Cummings.
Sliding scale donations $10-$20
In addition to (not in lieu of) monetary donations at the door we will be accepting the following supply donations Valentine's night:
Sleeping bags, tarps, headlamps, new socks, and tents.
Donate directly to ENGAGE inc. and Sac Safe Space via their website at http://www.engage.us.org/sac-safe-space/.
E.N.G.A.G.E. INC. was created out of a need for direct, citizen-led action concerning local poverty and our un-homed neighbors trying to survive without a roof over their head.
Operating solely on volunteer hours and donations, E.N.G.A.G.E. INC. does not offer employment nor compensation. As such, 100% of donations are applied to directly benefit un-homed youth.
EVENT WEBSITE: HERE
Find other events tagged under:
Event Categories