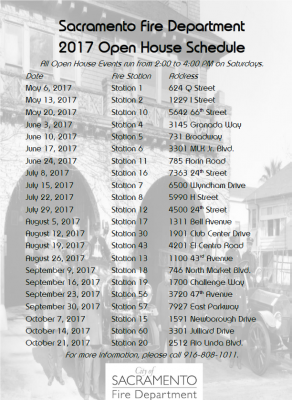 This event has expired.
When

Sat, May 20 2017

Where

Sacramento City Firehouses
Sacramento neighborhoods

Admission

Free
Description
Come on out to your local fire station and see what your hometown heroes do every day! Take a tour of the station, climb aboard a working truck or engine, collect some informative brochures on disaster preparedness and even meet Sparky the Firedog!
Open House Schedule:
-May 6: Station 1 (624 Q St.)
-May 13: Station 2 (1229 I St.)
-May 20: Station 10 (5642 66th St.)
-June 3: Station 4 (3145 Granada Way)
-June 10: Station 5 (731 Broadway)
-June 17: Station 6 (3301 MLK Jr. Blvd.)
-June 24: Station 11 (785 Florin Rd.)
-July 8: Station 16 (7363 24th St.)
-July 15: Station 7 (6500 Wyndham Dr.)
-July 22: Station 8 (5990 H St.)
-July 29: Station 12 (4500 24th St.)
-August 5: Station 17 (1311 Bell Ave.)
-August 12: Station 30 (1901 Club Center Dr.)
-August 19: Station 43 (4201 El Centro Rd.)
-August 26: Station 13 (1100 43rd Ave.)
-Sept 9: Station 18 (746 North Market Blvd.)
-Sept 16: Station 19 (1700 Challenge Way)
-Sept 23: Station 56 (3720 47th Ave.)
-Sept 30: Station 57 (7927 East Pkwy.)
-Oct 7: Station 15 (1591 Newborough Dr.)
-Oct 14: Station 60 (3301 Julliard Dr.)
-Oct 21: Station 20 (2512 Rio Linda Blvd.)
Find other events tagged under: firehouse, heroes, open house
Event Categories