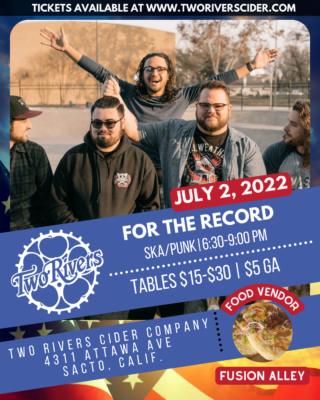 Description
Heavily influenced by the sounds of Reel Big Fish, Less Than Jake, The Mighty Mighty Bosstones, Streetlight Manifesto and so many other great bands, For The Record add their own touch while staying true to the classic third wave ska sound.
They give it their all at every show they play, so come on out to a show and have a good time!
Food on Site: Fusion Alley
——-
Two Rivers is an all-ages venue.
Well-behaved dogs are welcome on leash.
Our patio is a non-smoking area.
No offsite alcohol allowed on premises.
Find other events tagged under:
Event Categories