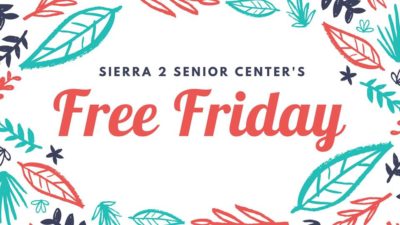 Description
Join us for a new quarterly mini-event we call: Free Friday! These days are filled with special activities, classes, guest speakers, and- of course- catered lunch! Exact activities vary by event. Regularly held Friday activities (i.e. Pilates with Lauren, Open Art Studio, and Pinochle) will be FREE on Free Friday days. You can find a complete schedule at the Senior Center and below:
May 18th
This Free Friday is focused on Health & Happiness! We've got a variety of activities that will get you up and moving, laughing with friends and eating good food!
Schedule:
Coffee Hang Out // 9:00 – 11:30 a.m. // Rm 12
Enjoy a cup of freshly brewed joe in between activities or just for fun!
Zumba Toning // 9:30- 10:30 a.m. // Studio 3
This class incorporates physical exercises using dance steps to the rhythms of Cumbia, Merengue, Mambo, Salsa, Samba and more. Come discover how easy and fun losing weight, toning muscles and getting in shape can be! Wear sneakers or tennis shoes. Led by Hart Senior Center instructor Kelly Pineda.
Pilates with Lauren // 10:30 – 11:30 a.m. // Studio 2
Instructor Lauren will teach the basics of proper posture and form, as you ease into beginning mat Pilates exercises. This class is safe, low-impact and great for just about every fitness level! Pilates has been proven to strengthen the core, boost balance, and improve posture! Bring a yoga mat.
Swing Dance Lessons // 12:00 – 1:00 p.m. // Room 10
Grab a partner and join us for some fun swing dancing to the tune of big band music! Professional dance instructor Barnaly Pande will be teaching moves to a couple different dances, with plenty of time for free dance.
Pinochle // 12:30 – 3:00 p.m. // Room 12
Sit down for a game of pinochle, a fun trick-taking card game.
Open Art Studio // 12:30 – 3:00 p.m. // Room 11
Join us for fun art projects which range from coloring to drawing to bracelet making — participants are encouraged to bring their own projects from home to work on in a friendly and creative environment.
Free Lunch // 1:00 – 2:00 p.m. // Curtis Hall
Menu includes assorted sandwiches and salads from La Bou.
Building Happiness into Each Day Workshop // 2:00 – 3:00 p.m. // Room 10
Do you feel as happy as you'd like to be? If not, there are simple techniques you can integrate into your everyday life that will help you meet your happiness goals. In this session, along with discussing the importance of setting the intention and calling upon loving internal resources to be happy, we will explore additional tools to use in re-crafting our daily lives to contain more happiness. Led by Hart Senior Center volunteer Latifu Munirah, wellness coach and retired clinical social worker with over 40 years' experience.
*Please sign up for the Happiness Workshop ahead of time.
These events are made possible through generous sponsorships by local businesses and organizations.
Thank You! to the Advisory Committee of the Ethel Hart Mutual Endowment Fund for funding May & August's events!
Find other events tagged under: free, seniors, sierra II center
Event Categories