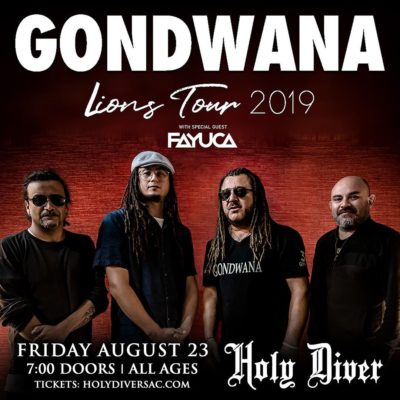 Description
Official website: Gondwana, Fayuca
Facebook: Gondwana, Fayuca
Phoenix, Arizona based, Fayuca, is a Reggae-Rock/ Latino group, fronted by founding member, Gabo. Their sound shifts through genres while blending modern-reggae melodies with Latin percussion, tied seamlessly by razor guitar riffs and progressive rock breakdowns.
Their music has been featured on MTV, Univision, FOX Sports and other popular TV networks. Fayuca's instrumental, La Venganza, was hand picked by movie director Robert Rodriguez to be used as the main title theme to El Rey Network's original series, MATADOR.
Currently backed by bass player, Mario Sepulveda, trumpet player, Danny Torgersen, and drummer, Arturo Sosa, the four piece has become an international touring act. They have shared the stage with leaders in their genre like Molotov, 311, The Roots, Cultura Profetica, Slightly Stoopid, Sublime with Rome, Damien Marley, Gondwana, Dread Mar I and many more.
While finishing high school in Tolleson, Arizona, Gabo sparked an interest for writing music and forming a bilingual-rock band. Since their first album release in 2004, Fayuca has launched four studio albums, including Barrio Sideshow, released on Fervor Records, which fueled an MTVu launch in 2013. Their songs promote Latino culture, good vibes, and self-identification. Touring insatiably between writing and recording music, Fayuca strives to inspire people around the world by spreading a message of courage, love, and empowerment.
GONDWANA, es sin dudas una de las bandas más fuertes del reggae latinoamericano. Formado en Chile en 1987, el grupo mantiene una trayectoria muy destacada, con ventas multiplatino y presentaciones de los mejores festivales de toda Latinoamérica (Reggae On the River en California, Rock al Parque en Bogotá, Vive Latino en México, Pepsi Music en Buenos Aires, Cosquín Rock en Córdoba, Quito Fest en Ecuador y varias apariciones en el Festival de Viña del Mar son testigos de su impacto masivo).
La banda lanza su primer DVD, grabado en vivo en Buenos Aires en agosto 2009, festejando sus 23 años de trayectoria. Fue un show impecable en donde se recorrió toda su discografía, clásicos y hits, con varios invitados de lujo. El DVD por fin verá la luz en el mes de Abril de este año y será editado también en CD y en DVD+CD.
Desde 1997 a la fecha han editado 5 discos de estudio, un álbum de Dub y tres compilados, todos ellos con lanzamiento en USA. Su discografía ha sido publicada alrededor del planeta a través de la etiqueta especializada RAS Records sumando a la fecha ventas totales que superan las 450 mil copias: 9 discos de Platino en Chile, y un historial aproximado de 800 conciertos.
Temas como Sentimiento Original, Chainga Langa, Armonía de Amor, Antonia, Verde Amarillo y Rojo o Dulce Amor, ya son clásicos que no sólo han traspasado la barrera del tiempo para convertirse en himnos de la nueva canción, sino que han diluido las fronteras transmitiendo su contundencia musical en los 17 países en donde han tocado. Los últimos tres años el reformulado grupo de 10 músicos ha recorrido innumerables escenarios internacionales con su música. Países de Centro América y Europa han sido testigos de su talento y vigencia, convirtiéndose en la banda chilena con mayor actividad internacional. Es una de las bandas que encabezan el movimiento de reggae latino, junto a Los Cafres, y Cultura Profética.
Las tres bandas compartieron escenario en casi 10 ocasiones.
EVENT WEBSITE: HERE
Find other events tagged under:
Event Categories