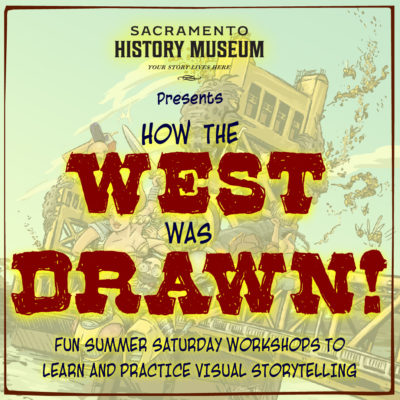 Description
Comics are as old as recorded history, and a surprisingly big part of the Old West. Join the Sacramento History Museum and Eben Burgoon this summer for How the West Was Drawn! – A hands-on, visual storytelling workshop tracing the lineage from the 1800s dime novel to the graphic novel of today.
How the West Was Drawn! comprises five Saturday sessions in July and August, each broken up into 30 minutes of lecture time and 30 minutes of hands-on activity. The Sacramento History Museum is proud to host the workshops, which also give you the opportunity to explore the rich illustration in our newest exhibit, California in Print.
Tickets are $125 per participant for the whole 5-week series – that's only $25 per class! All supplies, as well as complimentary Sacramento History Museum admission, are included with your ticket price.
Session One: The Exhibit + Storytelling Lab – July 9 2:00 pm – 3:00 pm
Session Two: Comics & Zine Making Lab – July 16 2:00 pm – 3:00 pm
Session Three: Guest Cartoonist with Dan Bethel – July 23 2:00 pm – 3:00 pm
Session Four: Wild West Characters and Archetypes – July 30 2:00 pm – 3:00 pm
Session Five: Putting it All Together – August 13 2:00 pm – 3:00 pm
Find other events tagged under:
Event Categories