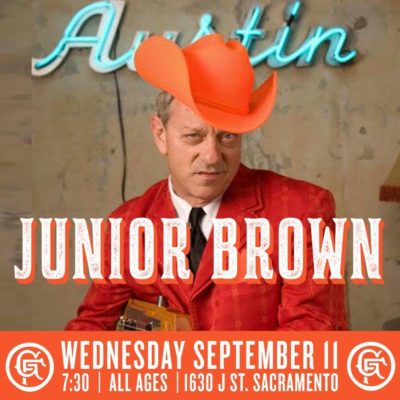 Description
Map Unavailable
Official website: Junior Brown, Cash Prophets
Facebook: Junior Brown, Cash Prophets
Also featuring Cash Prophets
With his unique voice, more unique song writing, and even more unique double necked "Guit-Steel" guitar, there has absolutely never been ANYONE like Junior Brown. He's an American Original. Born in 1952 in Cottonwood, Arizona, Junior Brown showed an affinity for music at an early age when the family moved to a rural area of Indiana near Kirksville. In the following years, Junior began to experience Country music and remembers it as "growing up out of the ground like the crops – it was everywhere; coming out of cars, houses, gas stations and stores like the soundtrack of a story, but Country music programs on TV hadn't really come along much yet; not until the late fifties." Discovering a guitar in his grandparent's attic, he spent the next several years woodshedding with records and the radio. Junior was also able to tap into music he couldn't hear at home which older, college aged kids were listening to. This was possible due to his father's employment at small campuses throughout the next decade as the family moved twice again. As a young boy he was able to experience the thrill of performing before live audiences, at parties, school functions even singing and playing guitar for five thousand Boy Scouts at an Andrews Air Force Base jamboree; then while still a teenager, getting the chance to sit in with Rock and Roll pioneer, Bo Diddley. Armed with this broad spectrum of influences, he began to develop a storehouse of musical chops.
The Cash Prophets are a true to life Johnny Cash Tribute band from Folsom, CA. Honoring the unique Johnny Cash sound, the Cash Prophets consists of Bobby Dickson-Lead Vocals & Rhythm guitar, his son Bob Dickson Jr-Lead guitar and Chuck Humphreys-Upright Bass.. Guests Drummer BB McKay, Guest Upright Bass player Daniel Enriquez. Centering on The Man in Black and singing songs that began at Sun Records in 1954, all the way through his 50+ year career. We also pay our respects to many other country music legends, from Hank Williams, Waylon Jennings, Johnny Paycheck to Merle Haggard and Townes VanZant. All in the style and spirit of Cash himself.
The Gospel according to The Man in Black. Bringing you the last Century's country music for your next concert or event.
EVENT WEBSITE: HERE
Find other events tagged under:
Event Categories