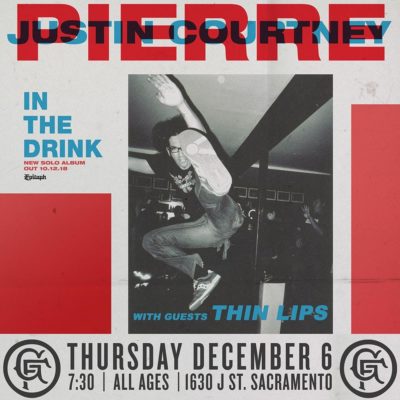 Description
Official website: Justin Courtney Pierre
Facebook: HERE, Thin Lips
"I was pulling hard at the seams and the whole thing came undone."
It's been a couple of years since we heard from Justin Courtney Pierre. When we last left off, his celebrated rock band Motion City Soundtrack decided to take a hiatus following a victory lap in support of their sixth album, Panic Stations. This culminated with a Riot Fest performance and a sold-out, career-spanning show at The Metro in Chicago in September of 2016… and since then aside from a few sporadic singles—both under his own name and as half of the video-game-themed duo The Rapture Twins—Pierre has kept a pretty low profile after spending nearly two decades in the band. In reality, what he's been doing lately hasn't been terribly exciting bio fodder: He's been in Minneapolis, mowing the lawn, cultivating tomatoes, taking care of his daughter and figuring out who he is if he isn't the guy fronting Motion City Soundtrack.
But don't worry, that doesn't mean he hasn't been making music.
"I guess the jumping off point for this album was that I wanted to see if I could just write everything myself and perform as much of it as I could," Pierre says of the impetus for his first solo album, In The Drink. "I didn't really have a goal in mind other than I wanted to see if I could pull it off." Pierre originally planned on living domestically after Motion City died down but instantly felt an almost cosmic pull to revisit the hundreds of voice memos, lyrical scribblings and melody ideas that he had been compiling since age 7. "There is a part of me that just needs to make stuff so with whatever free time I had I'd be writing and then I'd clean the house and then I'd write some more…" Pierre says. "I didn't really think about it too much, I just sort of did it and it ended up coming together a lot sooner than I thought." I interviewed his wife and she confirmed that Justin kept the house very clean during the completion of the album. He also performed all of the grocery shopping, made phone calls to billing departments of various utilities companies, caught and released small insects that found their way into the house, prepared dinner at least twice a week and took out the recycling on the right day 80% of the time.
Ultimately regardless of what happens with In The Drink, Pierre is simply excited that he had the opportunity to make this album and in that spirit he's planning on making a video for each song and exploring these concepts in multiple mediums, something he always wanted to do in his previous act. "The songs are connected to the artwork and the artwork is connected to the videos and it's a crazy amount of work but it's also extremely validating as an artist," he summarizes. "It all just comes back to trusting my gut instinct in the sense that there are all these branches that people can follow and interpret in different ways. I know how it all connects and comes together for me but that doesn't mean that that's the way it is for anyone else. You know? Does that make sense?"
Thin Lips, huh? A rock/roll type indie band who place a whole lot of value on humility, kindness, and erudite riffage. Following their fledgling EP, Divorce Year, with the release of their first full-length record, Riff Hard (Kyle Pulley/ the Headroom, May 2016), Chrissy Tashjian steers Thin Lips down the middle lane of pop sensibility, while simultaneously testing the boundaries of some pretty wild licks, bud; backed by rhythm keepers Michael Tashjian (drums and Chrissy's younger brother), and Kyle Pulley (bass/audio engineer), and auxiliary guitar player, Christopher M. Diehm. 2017 finds the band looking ahead to a European tour and split record release with friends, Modern Baseball and the Superweaks, as well as pre-production for a forthcoming full-length record.
EVENT WEBSITE: HERE
Find other events tagged under: live music sacramento
Event Categories