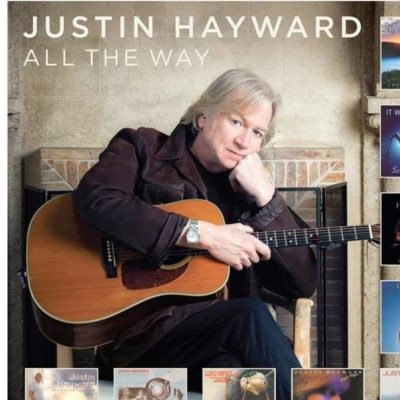 Description
Map Unavailable
Official website: Justin Hayward, Danny Zelisko
Facebook: Justin Hayward, Danny Zelisko
Justin Hayward, the voice and songwriter of such Moody Blues hits as "Tuesday Afternoon" and "Nights in White Satin" and recently inducted member of the Rock and Roll Hall of Fame, performs many of his most well-known Moodies songs, deep cuts and other solo material in an acoustic trio format with background stories and anecdotes about the songs.
When Hayward was 15 he was able to afford a Gibson guitar and a Vox amplifier through performing with local Swindon groups in clubs and dance halls playing mostly Buddy Holly songs. One of Hayward's early groups was All Things Bright, which opened for The Hollies and Brian Poole and the Tremeloes. At age 17, he signed a publishing contract as a songwriter with the skiffle artist and record producer Lonnie Donegan, a move Hayward later regretted as it meant the rights to all his songs written before 1974 would always be owned by Donegan's Tyler Music. In 1965 he answered an advertisement in Melody Maker and auditioned as guitarist for Marty Wilde and he went on to work with Wilde and his wife in The Wilde Three.
Hayward was recently involved in the remastering of The Moody Blues back catalogue for Universal Music.
EVENT WEBSITE: HERE
Find other events tagged under:
Event Categories