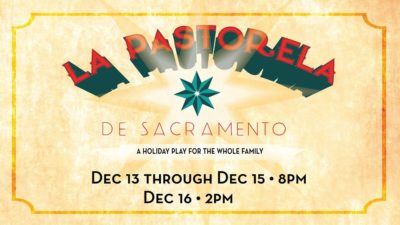 Description
Dec 13 – Dec 16 at Guild Theater in Oak Park.
The Latino Center of Art and Culture (LCAC), Sacramento's non-profit Latino art and cultural center, presents the 6th Annual
"La Pastorela de Sacramento," a popular holiday musical for kids and adults alike. This Pastorela is a clear-eyed example of political theater mixed with cultural traditions mixed with hope and holiday spirit.
WHAT: 6th Annual La Pastorela de Sacramento
DATES: Thursday-Sunday, Dec. 13-16, 2018
LOCATION: The Guild Theater (Oak Park), 2828 35th Street, Sacramento, CA 95817
8 PM December 13-14-15, 2018 (Pre-show Posada procession with El Coro de Sacramento 7:30 PM )*
2 PM December 16, 2018 matinee (Pre-show Posada procession with El Coro de Sacramento 1:30 PM)*
TIX: $15-Adults, $5-Children under 12
TIX available at Eventbrite and at the LCAC, 2700 Front St., Sacramento 95818
Find other events tagged under:
Event Categories