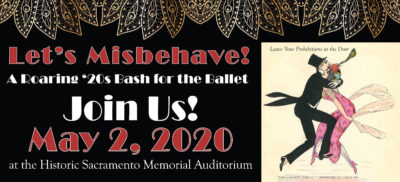 Description
It's sure to be
the cat's meow,
the bee's knees,
the elephant's eyebrows,
the gnat's whistle,
the eel's hips…
and a swanky, wanky affair.
Join the other swells and don your glad rags: pearls and beaded dresses, feathered headbands, sequined purses, evening shawls, black tie or white tie and tails.
Even the Memorial Auditorium will glow in its original 1920s finery.
A truly ritzy evening, indeed.
Fundraiser for Sacramento Ballet
Find other events tagged under:
Event Categories