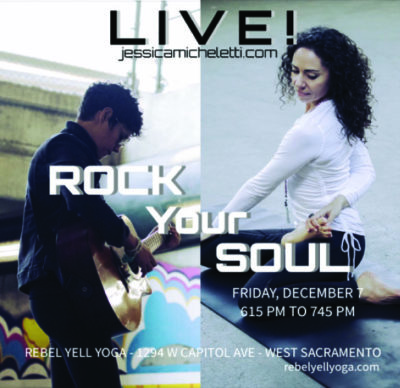 Description
REBEL YELL YOGA invites you to join us this Friday, December 7, 2018 for Rock Your Soul!
This confluence of movement and live music powerfully impacts the body to awaken the heart, mind, and soul. Jessica Micheletti and Liani Moore have purposely curated a 75-minute experience that combines power vinyasa with live acoustic guitar to challenge your body, soothe your soul, and make your practice come alive. This class uses flowing asana to generate transformative energetic shifts within the body and live music to make that energy come alive. You've never experienced a class quite like this. It's all about you–LIVE!
Jessica is a masterful teacher of yoga and happiness. She exudes power and playfulness in her teaching, emphasizing both the sacredness of the daily yoga practice, and the freedom of the beginner's mind in each experience that she guides. Your practice will be infused with laughter, challenge, and new meaning each time you join Jessica on the mat.
Liani is an accomplished musician, yoga teacher, and rock star at heart. She combines a soulful voice with masterful guitar playing to take your time on the mat from an everyday yoga class to a vibrant, soul-shaking experience.
Bring a yoga mat, water, and towel. Class will be heated. All levels always welcome.
Tickets are available online at https://rebelyellyoga.com/events/
Find Rebel Yell Yoga in West Capitol Plaza at the corner of West Capitol Ave. & Jefferson Blvd. in the Chase Bank/Rite Aid parking lot, located between Papa Murphy's & Crest Jewelers.
Find other events tagged under: rebel yell yoga, west sacramento
Event Categories