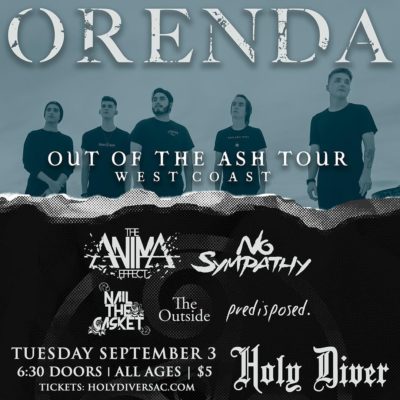 Description
Map Unavailable
Official website: Orenda
Facebook: Orenda, The Anima Effect, No Sympathy, Nail The Casket, Predisposed
Featuring Orenda, The Anima Effect, No Sympathy, Nail The Casket, The Outsider, Predisposed
Orenda: noun (idea), The power of human will to change the world.
Orenda began in 2014, with Winston Purkiss (vocals), Jason Hinkle (guitar), and Zach True (bass), and after establishing themselves, were later joined by Connor Mulhern (drums) and Sheldon Mountain (guitar). Their influences vary from the catchy choruses of Rise Against, to the breakdowns of Parkway Drive, to the more ambient an progressive styles of Gojira. Those influences, tied with the band's desire to have live and raw sound, means fans of Architects, The Devil Wears Prada, While She Sleeps and Crystal Lake will find a home in Orenda's body of work.
Having shared the stage with acts such as Stick To Your Guns, Wage War, Attila, Counterparts and Suicide Silence, Orenda's music is widely variable and consistently accessible in multiple genres; tied with an explosive stage presence and tight performance, they are a force to be reckoned with- their victory in the 2017 So What! Battle of The Bands is veritable proof that both fans and judges agree.
The true intention, the real heart and soul behind Orenda is a being a source of power- a driving force- for their listeners. There are so many problems facing the world, and each of us, on a daily basis. Change is real, but it can only be achieved through unity and a collective of people who believe in it; and creating that starts with one person. Your own beliefs, your own ideas, your internal drive can help make or break the change you want to see in the world. That is what this band, this music, and all its ideas stand for; this is Orenda. This is the power of your will to change the world.
The Anima Effect is a 5 piece Progressive Metalcore act based in Redding CA. The band was originally formed by Trevor Roberts, Trevor Gill, Ryan Martinez and Miles Pollard in August of 2016, although Trevor, Trevor, Will and Miles have been in bands together as far back as 2011.
The Anima Effect is the embodiment of the current generation's dissatisfaction and resentment of the status quo, and they have every intention of using their influence to provoke and inspire. Their album 'Upheaval' is sure to cause waves around the California metal scene bringing political tensions to the surface as they begin confronting the toxic cultural climate we are currently living in.
EVENT WEBSITE: HERE
Find other events tagged under:
Event Categories