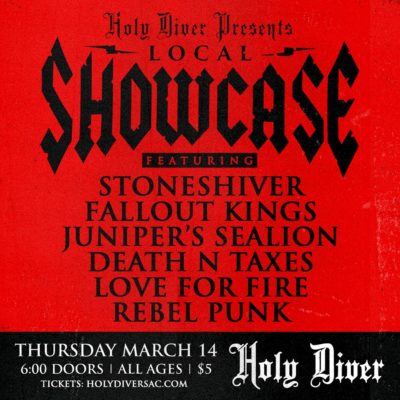 Description
Official website: Fallout Kings, Death n Taxes
Facebook: Stoneshiver, Fallout Kings, Juniper Sealion, Death n Taxes, Love for Fire, Rebel Punk
Featuring Stoneshiver, Fallout Kings, Juniper's Sealion, Death n Taxes, Love For Fire, Rebel Punk
Formed on July 17, 2015. Fallout Kings play Rock and Roll music. The band consists of Xander Roberts (Lead Vocals/Guitar), Peter Mibach (Bass), and Ross Walker (Drums).
Death n Taxes are a 2 piece garage rock/post punk group from the North Bay. They formed in the summer of '14 with offset idols like The Doors, The Hives, Duran Duran and Hunter S Thompson as unlikely inspirations, aiming to create riot-music that you can dance to. If Hendrix had played for The Sex Pistols, then it might have sounded like this. Bleeding irony and as practical as lighting birthday candles with a flamethrower, Death n Taxes continue to terrorize and seduce The Bay Area like a wet nightmare.
Rebel Punk is a hard rock band from Sacramento, CA. Check out Reverb Nation for music and booking info. Hope to rock out with you soon!
EVENT WEBSITE: HERE
Find other events tagged under: live music sacramento
Event Categories